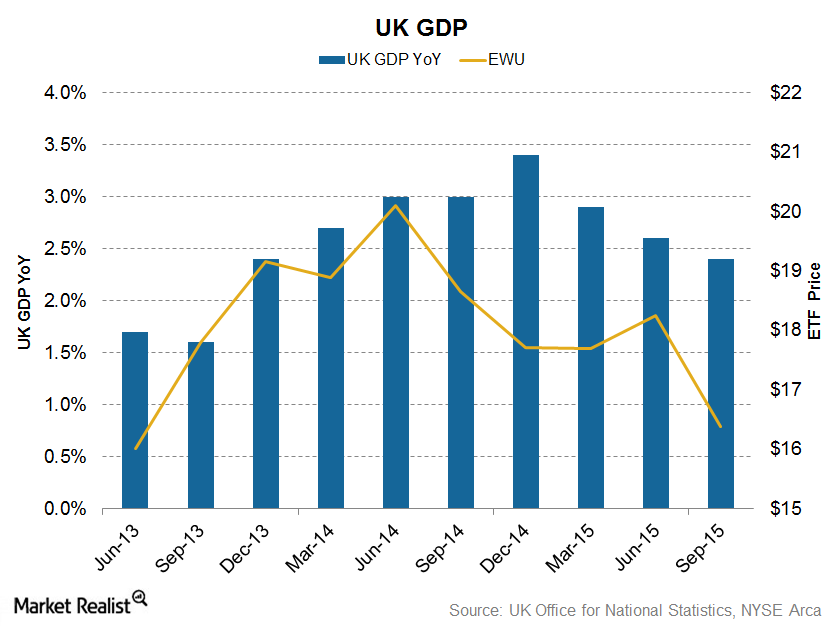 Household Disposable Income Rose and Helped Economic Growth
United Kingdom's GDP grew by 2.40%
The GDP (gross domestic product) is the most important indicator that's released in a given quarter. According to the United Kingdom's Office for National Statistics, the GDP in the United Kingdom rose at an annual rate of 2.40% in 2Q15. It was revised lower from the 2.60% released last month. On a quarterly basis, it rose 0.70% in the second quarter.
Article continues below advertisement
EWU continues to fall with the GDP's downward revision
Over the past year, the iShares MSCI United Kingdom (EWU) fell by 14.40% as of September 30. Industrial stocks have also followed the downturn. Companies like BAE Systems (BAESY) and Rolls-Royce Holdings (RYCEY) fell 9.90% and 33.30% over the same period. A downward revision of the GDP will likely impact the banking stocks. Banco Santander, S.A. (SAN), HSBC Holdings (HSBC), and Lloyds Banking Group (LYG) fell by 44%, 24.50% and 8.40%, respectively, over the past year as of September 30.
The GDP is an essential barometer of economic activities. A rise in the GDP estimate reflects a healthy economy and improved business sentiments. The Household and Non-Profit Institutions Serving Households saving ratio was estimated to be 4.70% in the second quarter—compared to 4% in the first quarter. The real household disposable income rose by 2% in the second quarter.
The United Kingdom is one of the powerful nations in the Eurozone. A downward revision of the United Kingdom's GDP may impact economic growth and create pessimism in an already ailing economy. Falling crude prices forced price levels to stay at lower points. This may provide a little headroom for the Bank of England to move up the interest rate hike before the middle of next year.
A slowdown in China is also hampering the business environment and consumer sentiment around the world. China's manufacturing data may provide insight into Chinese growth prospects. We'll discuss this in the next part.