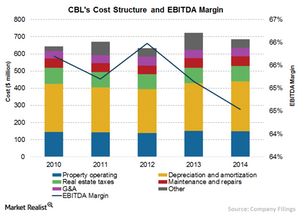 CBL & Associates Properties: Cost Structure Analysis
Cost structure
CBL & Associates Properties' (CBL) consolidated cost was $685.6 million for fiscal 2014, down by 5.2% over 2013. This came on the back of a 14.2% rise in total cost in 2013. Depreciation and amortization comprised 42.5% of the total cost in 2014, followed by property operating expenses at 21.8% and real estate taxes at 13%. General and administrative expenses comprised 2.9% of the total cost.
Article continues below advertisement
Cost components
Property operating expenses, which have remained flat since 2010, decreased by 0.9% in 2014 to $150 million. Real estate taxes also remained flat for the fourth year at $89 million, while maintenance and repairs expenses amounted to $55 million in 2014, compared with $56 million in the previous year. Property operating expenses, including real estate taxes and maintenance and repairs, fell in 2014 primarily due to a fall of $7.7 million from comparable properties.
Depreciation and amortization increased by 4.4% from 2013 to $291 million in 2014. The rise in depreciation and amortization expense was due to a $7.8 million rise related to comparable properties and $4.6 million attributable to new properties. General and administrative expenses rose by 2.9% to $50 million in 2014, primarily due to increases in consulting and legal fees.
EBITDA margin lower than peers
CBL recorded an EBITDA (earnings before interest, tax, depreciation, and amortization) margin of 64.5% in 2014, compared with 65.2% in the previous year. In 2012, the company recorded an EBITDA margin of 66%. This was the highest EBITDA margin recorded by CBL over the last seven years. For 2015, CBL is expected to report an EBITDA margin of 67.8%.
CBL's EBITDA margin was lower than that of close competitors such as Simon Property Group (SPG), General Growth Properties (GGP), and Macerich (MAC) with EBITDA margins of 75.2%, 67.4%, and 65.3%, respectively. On the other hand, CBL's EBITDA margin is higher than Taubman Center's (TCO) margin of 52.1%. CBL (CBL) forms 0.16% holdings of the iShares US Preferred Stock ETF (PFF).
In the next article, we'll discuss CBL's funds from operations and net operating income.