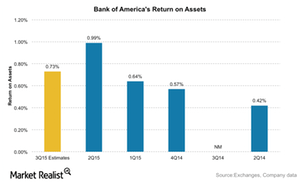 Bank of America's Return Ratios: High Target in 3Q15?
By Rebecca Keats

Updated
Return on assets target
Prior to 3Q15, Bank of America Corporation's (BAC) earnings beat analyst estimates, surpassing the earnings of competitors like Goldman Sachs (GS), JP Morgan Chase (JPM) and Wells Fargo & Company (WFC). Bank of America has set an ROA (return on assets) target of 1.0% for this year. In 2Q15, the bank's ROA was 0.99%. However, analysts are wondering if the bank will be able to sustain this profitability trend, or if this was just a one-time thing. Analysts are expecting Bank of America to have an ROA of 0.73% for 3Q15.
Article continues below advertisement
Meanwhile, the bank's ROE (return on equity) is estimated to hit 6.4% in 3Q15, compared to the 8.75% reported in 2Q15. During 3Q14, the bank had negative earnings. Thus, ROE was not meaningful for that quarter. But the bank's ROE has risen rapidly during 2015. In the first quarter of the year, it was 5.35%.
Lower legal expenses and profitability
High legal expenses have been a cause of concern for the bank in the previous quarters. Since 2008, the bank has shelled out $64 billion in legal costs and settlements. Following a court ruling that time-barred billions of dollars in a legal claim against the bank, the bank was able to reduce claims from $2.5 billion to $2.24 billion during 2Q15. This could be a major driver for the bank's profitability in the coming quarters.
Shares of Bank of America have underperformed the broad markets as well as the financial sector during 2015 so far. The Financial Sector SPDR ETF, which represents the US financial sector, has lost 6.0% during the year, while Bank of America's shares have lost a whopping 12.9%. In comparison, broad markets represented by the SPDR S&P 500 ETF Trust (SPY) has lost 3.0% during the same period.
Read the next and final part of this series for a look at Bank of America's current stock value in comparison to its peers.