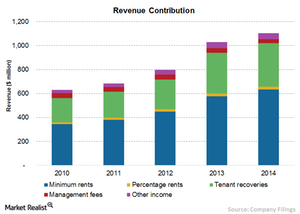 Assessing Macerich's Robust Revenue Growth in Fiscal 2014
Sources of revenue
Macerich (MAC) generates revenues primarily from tenant leases, which include the following:
base minimum rents
overage and percentage rents based on tenants' sales volumes
recoverable expenditures such as property operating, real estate taxes, repair and maintenance, and advertising and promotional expenditures
The revenues of the management company consist primarily of management fees that are based on the revenues of the property being managed.
Article continues below advertisement
Higher tenant sales boost revenue
Macerich (MAC) reported a consolidated revenue of $1.1 billion for fiscal 2014—a figure up by 7.4% over 2013. In 2013, its revenue grew by a whopping 29.1% over 2012. Its minimum and percentage rents (or rental revenue) increased by 9.4% to $658 million in 2014 over 2013. This increase in rental revenues came from an increase in income from Macerich's acquisition properties, redevelopment properties, and centers, which was offset, in part, by decreases in income from disposition properties. Increases at the same centers are usually attributed to increases in releasing spreads and in tenant occupancy.
The company's tenant recoveries increased by 6.9% to $361 million in 2014 over the previous year—an increase directly related to the $17.9 million increase from its acquisition properties, $7.5 million from the redevelopment properties, and $0.7 million from the same centers. These figures were offset in part by a decrease of $2.8 million from Macerich's disposition properties.
Management fees decreased to $34.0 million in 2014 from $40.2 million in 2013 due to a reduction in management fees from the following:
the sales of Kitsap Mall, Redmond Town Center, and Ridgmar Mall in 2013
the conversion of Superstition Springs Center to a consolidated center in 2013
the sale of Cascade Mall in 2014
Overall, Macerich reported decent revenue growth over the past five years, with revenues rising to $641.1 million in 1H15 from $631 million in 2010. The company looks poised to cross the $1.3 billion mark in 2015.
Article continues below advertisement
Revenue contribution
Macerich's revenues from minimum rent comprised $634 million, or 57.3%, of its total revenues in 2014. The share of minimum rent remained in the range of 55–57% of total revenues over the past five years. Tenant recoveries had a share of 32.7% of the company's total revenues, or $361 million, in 2014, while management fees had a 3.1% share of total revenues.
Peer group comparison
Macerich's revenue growth in 2014 was higher compared to its close competitors Simon Property Growth (SPG), which saw a revenue growth of 7.2%, General Growth Properties (GGP), which saw a 2% growth, and CBL & Associates Properties (CBL), which saw a mere 0.7% growth. Macerich makes up 1.30% of the holdings of the iShares U.S. Real Estate ETF (IYR).
In the next part of this series, we'll go deeper into Macerich's cost structure.