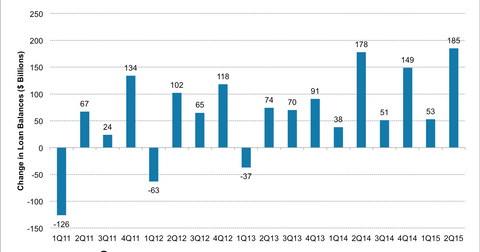 Loan Portfolios of US Banks Continue to Trend Upwards
By Rebecca Keats

Sep. 11 2015, Updated 9:07 a.m. ET
Loan portfolios grew by 2.2% to $185 billion
In this part of the series, we'll analyze the size and growth of loan portfolios of US banks (XLF). Loan portfolios grew by 2.2% over 2Q14 to $185 billion in 2Q15. This was led by a $49 billion increase in commercial and industrial loans, followed by a $25 billion increase in one-to-four family residential mortgages. Almost all major loan categories posted an increase year-over-year.
Loan losses, as well as non-current loan balances, continued to fall year-over-year. Loan loss provisions increased in 2Q15 compared to last year. However, the increase was attributable primarily to larger banks, as overall provision expenses at community banks fell.
Article continues below advertisement
Charge-off rates of major banks fall
Net charge-offs fell 11.2% to $1.1 billion compared to last year. Meanwhile, net charge-off rates fell to 0.42%, the lowest levels since 2006 compared to 0.50% in 2Q14. Charge-off rates are the flow of a bank's net charge-offs (or gross charge-offs minus recoveries) during a quarter divided by the average level of its loans.
Banks like Wells Fargo (WFC), J.P. Morgan (JPM), and Bank of America (BAC) listed on the New York Stock Exchange (SPY) reported lower charge-off rates in 2Q15 compared to the corresponding period last year.
Wells Fargo's charge-off ratio fell to 0.30% from 0.35% and net charge-offs fell by $67 million to $650 million in the second quarter of 2015. Meanwhile J.P. Morgan and Bank of America posted rates of 0.56% and 0.49%, respectively.