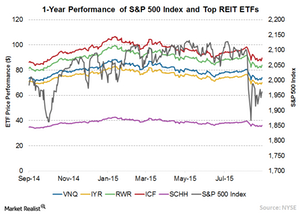 What Should Investors Expect from the REIT Market?
By Peter Barnes

Oct. 1 2015, Updated 8:09 a.m. ET
Higher volatility affected REITs
While the higher volatility has affected the broader indices during the past two months, the impact was more evident on REIT stocks. Year-to-date, the S&P 500 is down by 5.73%, while all the top REIT ETFs are bearing most of the brunt of the decline in REIT stocks. The Vanguard REIT ETF (VNQ) and the iShares U.S. Real Estate ETF (IYR) are down by 10.2% each followed by the SPDR DJ Wilshire REIT ETF (RWR) with a loss of 9.13%. The Simon Property Group (SPG) is the single-largest holding in all the three ETFs discussed here, while HCP (HCP), Public Storage (PSA), and Equity Residential (EQR) feature prominently as well. Let's look at what's in store for REITs for the rest of the year.
Article continues below advertisement
Borrowing cost is likely to increase
REITs largely depend on debt for their expansion. As a result, a rise in interest rates will be a big setback to many REITs, as it will lead to higher borrowing costs, thus affecting their profitability. On the other hand, REITs who have availed a substantial amount of debt to take advantage of low interest rates for expansion could benefit with the uptick in economic activities.
REIT prospects are tied to the economy
Most of the REIT indicators we discussed earlier in this series are positive for the REIT industry. As the economy gathers momentum, demand for lease space increases, helping REITs to bolster their profitability. As a result, investors need to adopt a long-term perspective on the sector, while ignoring short-term bumps for better returns and portfolio diversification.
Historical data is contradicting popular perception
Analysis of historical data by NAREIT shows that share prices of listed Equity REITs have more often increased than decreased during periods of rising interest rates. In 12 of the 16 periods since 1995 when interest rates rose significantly, equity REITs generated positive returns. This is due to the fact that the rising economy led to the robust demand for commercial properties from tenants, thus boosting the bottom lines of REITs. Thus, investing in REITs with a strong balance sheet and higher growth prospects could be beneficial for investors.
Market Realist publishes this series on REIT indicators and their implications on REIT stocks every month, so check back for the latest updates.