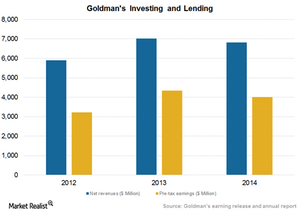 Goldman Sachs' Investing and Lending Contributing to Expansion
By Robert Karr

Updated
Investing and lending
Goldman Sachs (GS) deploys a sizable portion of its assets into investments and lending activities. The company invests for long-term in a form of debt securities and loans, public and private equity securities, and real estate. The activities include investing through managed investment funds or directly in publicly and privately traded securities and in loans.
Goldman Sachs manages a diversified global portfolio of investments in equity, debt and other instruments in privately negotiated transactions, acquisitions and investments, and leveraged buyouts, in funds managed by external parties.
Article continues below advertisement
Goldman Sachs' investment and lending activities form 19.8% of the company's total revenues in 2014 compared to 17.2% in 2012. In 2014, the division generated $6.8 billion in total revenues compared to $5.9 billion in 2012. Its operating revenues climbed to $4.0 billion compared to $3.2 billion on higher returns on investments.
Equity investments
Goldman Sachs (GS) invests in equities of companies across the sectors with minority or majority stake. The company engages in corporate, real estate, and infrastructure equity-related investments for the medium to long term and acts as a general partner for the various funds it manages.
Debt securities and loans
Goldman Sachs makes corporate, infrastructure, real estate, and other debt investments. In addition, the company also provides credit to corporate clients through syndicated loan offerings and to high-net-worth individuals primarily through secured loans. The company also makes other investments, including consolidated investments. Goldman Sachs has a predetermined exit strategy for such investments.
Strategic investments into client's corporations in the form of equity, debt, and syndication have been a strength of the company and has resulted in increased business for other divisions.