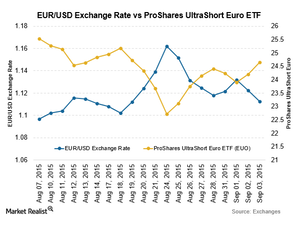 European Central Bank Hints at Increasing Quantitative Easing
By David Meyer

Sep. 8 2015, Published 2:42 p.m. ET
Euro falls sharply against US dollar
The euro drove downward against the US dollar as Mario Draghi, president of the European Central Bank (or ECB), hinted at increasing the stimulus program to spark growth in the European economy. The statement came at a time when investors were speculating the timing for a hike in US interest rates, further intensifying the divergence in monetary policies between the two economies. The Euro-dollar pair ended September 3, 2015, at -0.92%.
Article continues below advertisement
ECB's stimulus package might expand to pull up inflation
Draghi stated that the central bank is willing to take measures to increase inflation from the current level of 0.2% to the targeted 2% level. The news fueled speculations that the ECB might expand its current quantitative easing (or QE) program that stands at 1.1 trillion euros. Interest rates are already at a near zero level, while deposit rates charged to banks for depositing funds with the ECB are in the negative. The QE program, under which the ECB is buying government bonds worth 60 billion euros every month, can be extended by either increasing the stimulus amount or by extending the program beyond September 2016 when it's scheduled to end.
Impact on the market
Let's focus our analysis on currency-based ETFs linked to the euro on September 3. The ProShares UltraShort Euro ETF (EUO), which is inversely linked to the euro, finished positively at 1.85%, taking strength from the faltering euro. In contrast, the Guggenheim CurrencyShares Euro ETF (FXE), which has a direct relation to the euro, ended on a negative note at -0.95%.
Among the ADRs (American Depositary Receipts) from the Eurozone, Koninklijke Philips (PHG), a Dutch company, ended lower by 0.51%. Banking ADRs were trading on a mixed note. Deutsche Bank AG (DB) ended higher at 0.90%, while Banco Santander (SAN) ended lower by 1.18%.