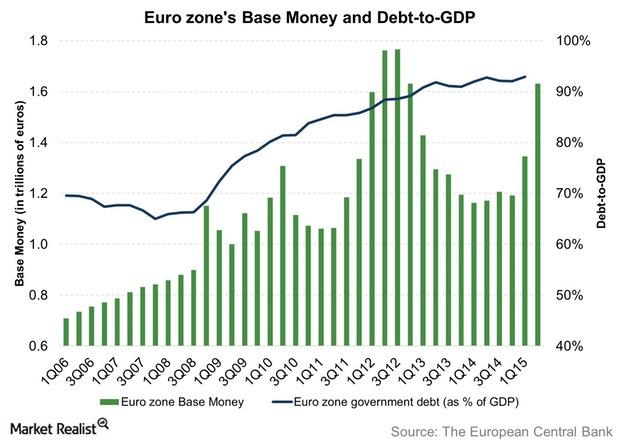 Europe-Focused Mutual Funds and the European Debt Crisis
By David Ashworth

Sep. 24 2015, Updated 4:23 p.m. ET
Credit to debt, debt to crisis?
Ray Dalio, the founder of Bridgewater Associates, while explaining economic principles, says that the moment credit is created, it turns into debt. Debt is an asset to the lender, while being a liability for the borrower.
While evaluating Japan's economic state, we emphasized spending. For evaluating the situation in Europe, let's take the credit-turned-into-debt, debt-turned-into-crisis route.
The Eurozone saw early signs of a crisis in 2008 when Iceland's banking system got into serious trouble. However, more pronounced signs of a debt crisis were seen in 2009, when PIIGS (Portugal, Ireland, Italy, Greece, and Spain) got into financial trouble. Their debt-laden balance sheets restricted their ability to repay their debts.
As Ray Dalio maintains, banks got squeezed, and credit dried up. Borrowers, who were creditworthy just a year ago, saw a change in that status. Fearing that banks may not be able to payback their deposits, people started taking out their money in a rush.
A recent similar instance was witnessed in Greece, where banks were forced to remain closed for three weeks in July 2015 and the government put a weekly cash withdrawal limit of 420 euros to shun a run on banks.
Article continues below advertisement
Strain on finances
The ECB (European Central Bank) continues to play a key role in combating the crisis. However, as the above graph shows, there's been an impact on Eurozone government finances. The Eurozone government debt, which stood at 65% of GDP (gross domestic product) in 4Q07, stands at ~93% of GDP as of 1Q15.
Banks like the National Bank of Greece (NBG), Banco Bilbao Vizcaya Argentaria (BBVA), and Banco Santander (SAN) felt the tight grip of the credit squeeze.
Impact on Europe-focused mutual funds
Even though mutual funds generally adopt a bottom-up approach when constructing their portfolios, they can't hide from a prolonged debt crisis. For our study on the impact of the crisis on Europe-focused mutual funds, we selected three mutual funds that have had a long history and have seen several market cycles. The following are those mutual funds:
T. Rowe Price European Stock Fund (PRESX)
Vanguard European Stock Index Fund – Investor Shares (VEURX)
Putnam Europe Equity Fund – Class A (PEUGX)
We plotted their relative performance from January 2000 until September 22, 2015. The above graph shows the result. VEURX, which tracks the FTSE Developed Europe Index, can serve as a benchmark here.
The difference in relative performance is due to active fund management stock picks. However, a general trend can also be seen. There's a clear downtrend in 2008, 2011, and 2014, with the latest falls in mid-2015 due to financial trouble in Greece.
This analysis shows that active management can only take you so far, and financial instruments can't escape the impact of economic indicators. This is not to say, though, that active management is bad. A well-researched investment process can help you reduce losses when everything is falling and give your investments an edge when things are rosy in general.