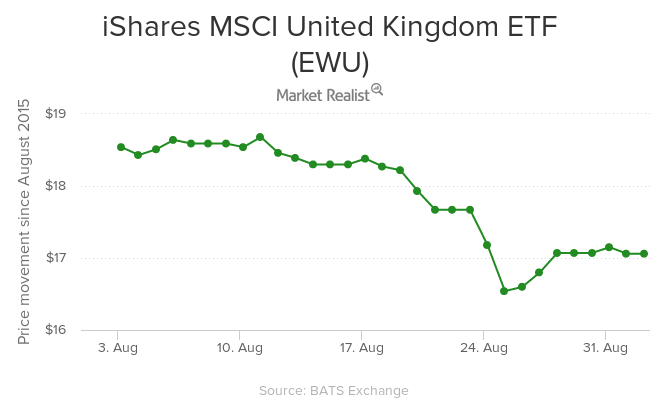 China's Impact on EWU and the UK Market
By Renee Blakely

Nov. 20 2020, Updated 5:28 p.m. ET
China's impact on the UK market
China went through many important events recently—like the equity bubble burst, the cut in interest rates, the stock sell-off, and currency devaluation through the first half of 2015. These events affected the global stock markets, which also went through this roller coaster ride. The small losses in the equity markets were also perceived as market corrections, according to a few analysts, owing to ultra-low interest rates in the United States and the United Kingdom. Since government securities offered investors a zero-interest-rate policy to investors, the money was flowing more in the equity markets, and the markets reached unsustainable heights. So the falls were called market corrections.
However, the Chinese stock market turmoil had its repercussions on world markets. What had been seen as market corrections can now be called "panic selling."
The graph below shows the price movement of the iShares MSCI United Kingdom ETF (EWU), which tracks British equities.
[marketrealist-chart id=632642]
Article continues below advertisement
The recent release of the manufacturing data from China signals that the recent Chinese turmoil is a deep concern for the entire world's economy and that it will take time to recover. The concern is deeper since it is not just about the immature Chinese stock market and its implications. It also has to do with the country's economic activity.
China has trade relations with many European countries, and the decline in China's manufacturing activity affects the country's imports and exports. Although the United Kingdom's exposure to Chinese trade is just 3.5%, China's impact on the United Kingdom is inevitable. China's economic slowdown has deeply affected its trade with Germany and France (machinery and automobiles). Consequently, UK trade in related industries, such as automotive parts, with these European countries has also been affected. This has created turbulence in the UK stock market. Across sectors, Unilever (UL), Vodafone (VOD), Pearson (PSO), and Prudential (PUK) fell by 3.03%, 2.38%, 4.37%, and 3.85% on September 1.
For further reading on global equity markets in September, visit our series Equity Markets: Is a September Swoon Ahead?