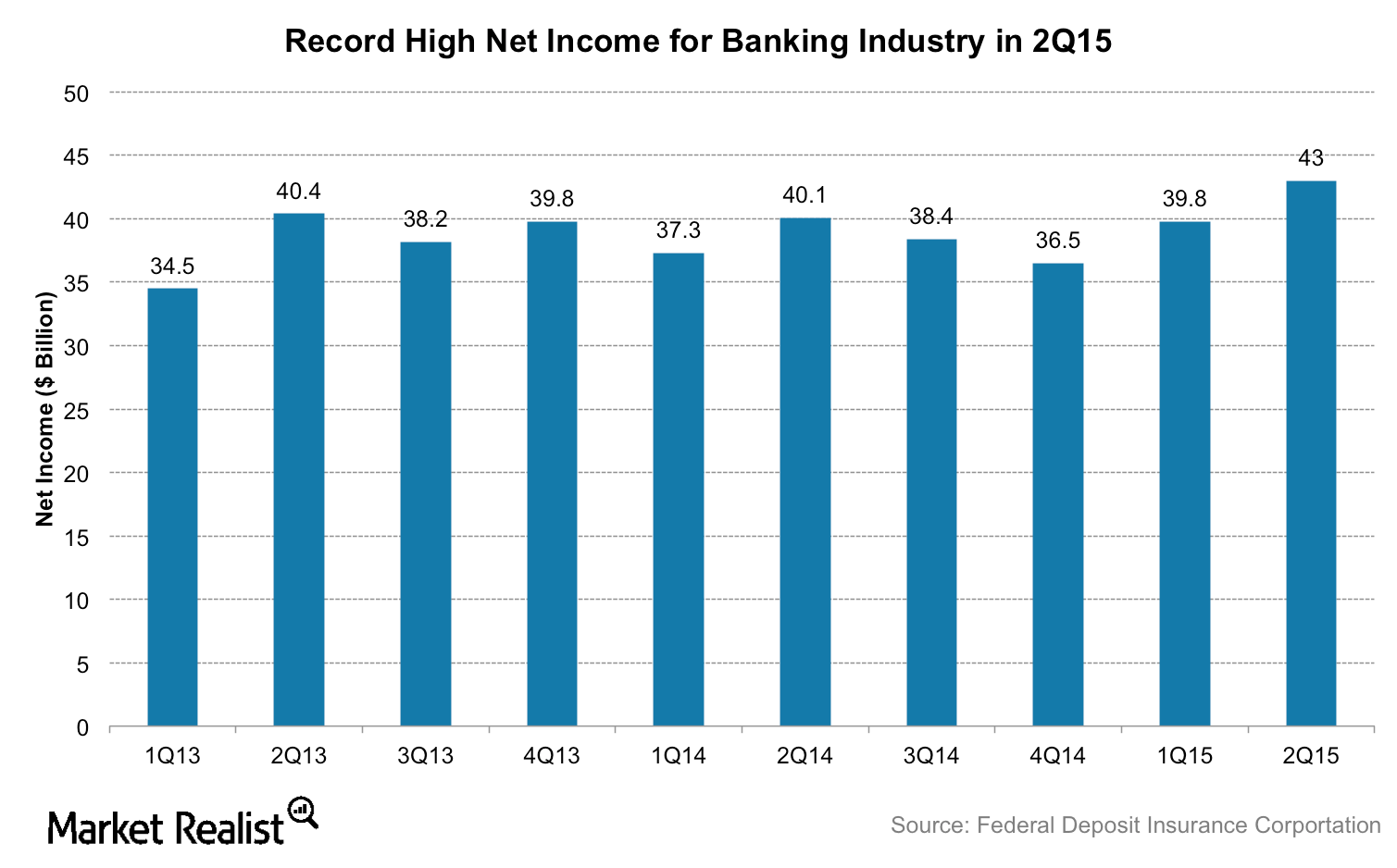 2Q15 Was a Record Quarter for Bank Earnings
Bank earnings rose by 7.3% in 2Q15
The Federal Deposit Insurance Corporation (or FDIC) released its quarterly report on the health of the US banking industry on September 2. The report suggested that the second quarter was the best to date, as bank earnings rose 7.3% year-over-year.
The 6,348 banks in the US earned aggregate earnings of $43 billion in the second quarter, an increase of 7.3% from the previous year. While this is the highest number to date, it does not take into account the effect of inflation.
60% of banks reported a year-over-year rise in second quarter net income, while 5.6% of banks reported losses lower than in 2014. The effect of increased expenses related to loan-loss provisions was offset by higher net operating revenues and lower non-interest expenses.
Article continues below advertisement
2Q15 earnings of large banks
Now we'll take a look at the earnings of the largest banks in the country. J.P. Morgan (JPM) reported earnings of $6.29 billion during the quarter, up 5.5% year-over-year.
Competitors such as Bank of America (BAC), Citigroup (C), Wells Fargo (WFC), and the Bank of New York Mellon reported earnings of $4.99 billion, $4.8 billion, $5.72 billion, and $1.2 billion, respectively.
Year-to-date, the Financial Select Sector SPDR ETF (XLF) lost 5.26% of its value. Banks constitute ~48% of this ETF. Comparatively, the SPDR S&P 500 ETF (SPY) lost 5.87% in the same period. Much of the downfall in markets is attributable to faltering growth in emerging market economies.