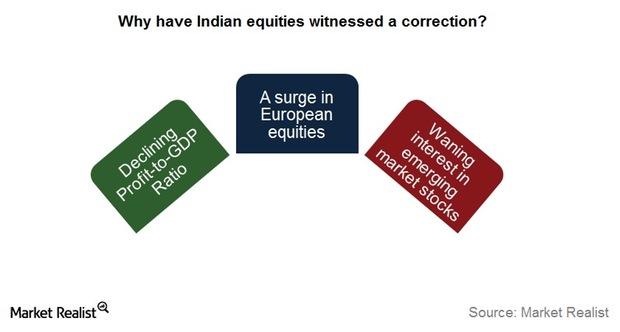 What Are the Reasons behind the Correction in Indian Equities?
Why the correction?
As we saw in the previous article, Indian stocks (IBN) (HDB) (INFY) aren't cheap, but they're not outlandishly expensive either. So that factor alone doesn't indicate an upcoming crash. But rather than leave the matter at that, let's investigate why Indian equities have fallen since early March 2015.
Article continues below advertisement
Corporate earnings hurt
Earnings for Indian corporates have impacted stock performance. According to the Economic Times, a financial newspaper published in India, interest payments and depreciation have pulled down the profit-to-GDP ratio of Indian corporates for the fifth consecutive year. The ratio fell to 4.1% for the year ended March 31, 2015. Remember that a financial year in India begins in April and ends in March of the next year.
The report also mentioned that for developed economies, this ratio ranges from 9%–14%. For emerging economies, it stands at 5%–8%. So Indian corporates are lagging behind their peers, which is impacting stock performance. Stocks with weak profits can be expected to fall behind if Indian equities rise due to fundamental reasons. Also, if stocks of certain companies have run up even though their fundamentals are not backing them, they can undergo a much sharper correction than others.
Article continues below advertisement
The rise of European equities
After the stimulus announcement by the ECB (European Central Bank) in January 2015 and its coming into effect in March 2015, European stocks became attractive. The positive effect was seen in ETFs like the Vanguard FTSE Europe ETF (VGK) and the SPDR EURO STOXX 50 ETF (FEZ). Although Greece negatively impacted European equities in June, they had risen until Greece's debt negotiations became a flashpoint.
Waning interest in emerging markets
The interest of global investors has waned in emerging markets in general. With the impending rate hike in the United States getting delayed and its path upward seen as more gradual than previously expected, investors have stayed invested in US equities.
In the last part of this series, let's look at factors investors need to be wary of to assess whether Indian equities are heading for a crash in 2016.