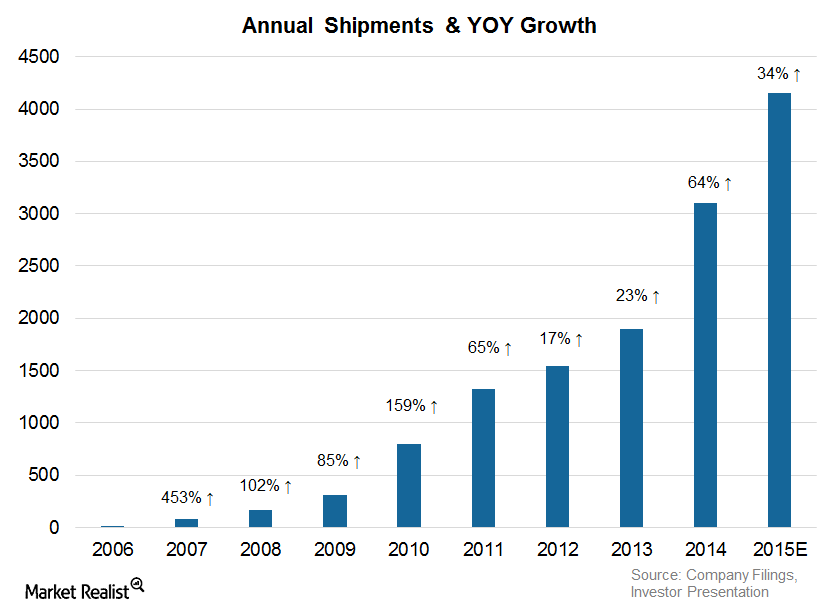 Comparing Canadian Solar's Technology to Industry Peers'
By Saania Malik

Jun. 25 2015, Updated 1:06 p.m. ET
Competition in technology
Improving module output and cell efficiency (the ratio of electrical output to energy produced) has been a major focus for solar power industry operators and R&D.
Standard modules are composed of mono-crystalline and multi-crystalline silicon cells, which have a conversion efficiency of 19.2% and 17.8%, respectively. For standard modules, Canadian Solar's (CSIQ) cells have achieved a similar output to other industry operators and a conversion efficiency in line with industry averages.
But with its competitive positioning, Canadian Solar has the second-largest market share among close peers. So how did the company achieve this accomplishment?
Article continues below advertisement
Product quality
Canadian Solar has seen strong and steady year-over-year growth in its shipments of solar modules. Plus, Canadian Solar offers a broad range of solar cells and modules that goes beyond the standard products offered by most industry operators.
According to industry standard metrics set by the California Energy Commission for measuring cell quality, Canadian Solar is ranked first for multiple cell types. Based on the PTC Rating (a preferred measure of module performance), Canadian Solar's cells rank number one for five different module types.
The PTC rating ranks cells after testing them in more realistic as well as harsh conditions. For one of the most commonly used multi-crystalline modules—with a 260 watt output composed of 60 cells—tests yielded a conversion efficiency of 16.1% for Canadian Solar, whereas Trina Solar's (TSL) modules yielded an efficiency of 15.9%.
Read on to next part of this series to learn more about Canadian Solar's competitive advantage.
Research and development
Since 2012, Canadian Solar's close peers have dedicated between 0.5% and 4.5% of their net revenues to R&D. Of the firms with the largest market share, the percentage of sales dedicated to R&D is at the lower end of the spectrum and has been decreasing for the past few years. Trina Solar, for example, spent 2.04%, 1.12%, and 0.97% on R&D in 2012. 2013, and 2014, respectively. Over the same period, Canadian Solar spent 1%, 0.7%, and 0.4% on R&D.
Industry operators have indicated that they intend to increase their R&D expenditures into the double digits. With consistently increasing market share already, the additional focus on research and development could mean further and faster breakthroughs.