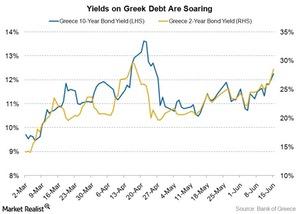 Analyzing the Situation in Greece: Impact on Global Markets
By Surbhi Jain

Updated
Greek gloom weighs down global markets
Markets in all of the major economies ended low on Monday, June 15, as the bailout talks between Greece and its European creditors collapsed over the weekend. Greece is on the verge of defaulting on its debt. By the end of the month, the debt is due to the IMF (International Monetary Fund) and its other European creditors. In this event, the probability of a Grexit also emerges.
The US broad-market SPDR S&P 500 (SPY) lost 0.43% on Monday, but it was partially supported by an 11.74% gain in Cigna (CI) stock. European market funds like the Vanguard FTSE Europe ETF (VGK) and the SPDR EURO STOXX 50 ETF (FEZ) closed lower by 1.05% and 1.30%, respectively. The Greece-tracking Global X FTSE Greece 20 ETF (GREK) was down 6.45%. Greece's Athens Stock Exchange Composite Index slid 4.7%. National Bank of Greece (NBG) plunged 10.16%, while Alpha Bank A.E. (ALBKY) lost 10.43%.
Article continues below advertisement
With no sign of any settling arrangement being reached between Greece and its creditors, the fears of a Greek default are mounting. The greater fear is a Grexit—Greece exiting the currency union and other debt-stricken countries following suit. Currently, this is weighing down European and US equity.
Greek bond yields are rising
In contrast, bond yields are surging to record levels, as the risk surrounding the Greek debt heightens. Yield on the economy's two-year debt has reached 28.6%, while the ten-year benchmark bond is currently yielding 12.4%. Yields rise when bond prices fall. With increasing risk, the bond prices of Greek debt are plummeting. This is sending yields high.
Besides the Greek crisis, investors in the US are now awaiting the FOMC (Federal Open Market Committee) statement that will be out on June 17—pursuant to the June 16–17 meeting. The FOMC statement is a market moving indicator that investors keep track of to assess the Fed's next moves with respect to interest rates and the monetary policy mechanism. Markets were also down in the US on disappointing economic indicator releases pertaining to the industrial sector. They were released on Monday, June 15.