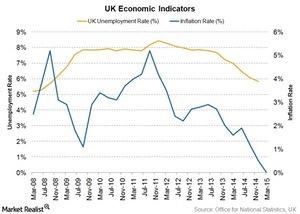 Snapshot of the UK Economy and Its Prospects
The UK is dominated by the service sector
The economy of the United Kingdom is dominated by the service sector, much like the United States. The service sector contributes more than three-fourths of the United Kingdom's GDP (gross domestic product). Service also dominates employment in the economy. On an industry level, the financial services industry is particularly important to the economy. London is the world's largest financial center.
Article continues below advertisement
London is home to major financial institutions such as Barclays (BCS), Lloyds (LYG), Standard Chartered (SCBFF), and HSBC (HSBC). Edinburgh, another large financial center in the United Kingdom, is home to the Royal Bank of Scotland (RBS) and Standard Life (SLFPD). US investors can gain exposure to the economy and to equities of these companies by investing in UK-focused ETFs such as the iShares MSCI United Kingdom (EWU). The aerospace, pharmaceutical, and automotive industries are other key export- and employment-providing industries.
UK economic situation
The UK economy thrives on its robust financial sector. It's boosted by revenues generated from the North Sea. The region, which is rich in energy resources, is a major hub for oil and gas production.
After the United Kingdom exited the recession in the fourth quarter of 2009, the British economy experienced six consecutive quarters of negative growth. The economy expanded at a 3% rate in the fourth quarter of 2014 on an annual basis.
Unemployment in the United Kingdom peaked at 8.4% in October 2011. It is now down to 5.6%. The inflation rate, which was at 5.2% in September 2011, is now down to 0%. Public debt in the economy makes up around 80% of the GDP.
The United Kingdom's key trading partners include Germany, the United States, the Netherlands, France, and Belgium. Germany tops the list for both export and import trade.
UK economic prospects
The March 2015 UK Economic Outlook report published by PricewaterhouseCoopers, LLP revealed the following:
Real GDP growth in the UK is projected to average around 2.5% in 2015 and 2.3% in 2016.
The inflation rate is expected to rise to 0.3% in 2015 and 1.8% by 2016.
Lower oil prices are expected to be a net positive for the UK economy. They should benefit consumer spending, real wages (by lowering the inflation rate), government revenues, and consequently the country's trade deficit.
London will lead the recovery in the UK and also be a key source of job creation in the country.
Key risks for the economy include a slowdown in the Eurozone (FEZ) and an escalation in the geopolitical unrest in Russia or the Middle East.
Let's take a quick look at the industries that lead or lag in the United Kingdom.