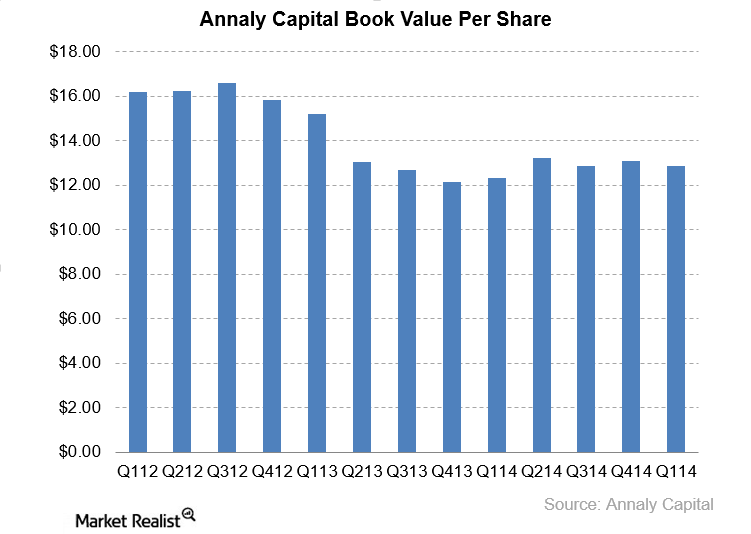 Highlights of the Asset Side of Annaly's 1Q15 Balance Sheet
By Brent Nyitray, CFA, MBA

May. 12 2015, Updated 9:06 a.m. ET
Annaly Capital's assets
Annaly Capital Management's (NLY) book value per share decreased from $13.10 in 4Q14 to $12.88 in 1Q15. Book value per share was $12.30 a year ago. Annaly Capital is trading at a sizable discount-to-book value.
Agency mortgage-backed securities (or MBS) and the new Agency Credit Risk transfer bonds accounted for $70.5 billion of Annaly's $78.7 billion in assets. This was a big drop in the portfolio. Adjustable-rate MBS accounted for about 4.6% of its portfolio.
During the quarter, Annaly shortened duration by swapping out 30-year MBS for 15-year MBS. This accounted for some of the drop in net interest income, since 15-year MBS generally have lower coupons than 30-year MBS.
Article continues below advertisement
Commercial real estate investments accounted for $3 billion in assets, which is much higher than the $1.5 million reported at the end of 2014. By investing in commercial real estate, Annaly Capital is increasing its returns. At the same time, however, it's taking on credit risk. That said, much of the commercial real estate debt is floating rate debt, which provides a bit of a hedge.
Annaly took advantage of the big payups in specified pools during the quarter to readjust its portfolio. During February, the general bond market sold off, while specified pools (in other words, existing MBS portfolios) held up. Annaly sold into that bid and bought TBAs (to be announced), which represented better value.
During the quarter, Annaly Capital also initiated a position in the new Agency Credit Risk transfer securities. These securities were part of a plan by the Federal Housing Finance Agency to shift some of the credit risk from the government to the private sector. Annaly has found these bonds attractive. They're another way for Annaly to get yield in a floating rate instrument, which acts as a natural hedge for its book.
Annaly was not the only mortgage REIT to cut leverage last quarter. So did American Capital Agency (AGNC). Fear of interest rate risk has made some of the non-agency real estate companies, like Northstar Realty Finance (NRF), outperform.
Of course, investors who want to make interest rate bets directly should look at the iShares 20+ Year Treasury Bond ETF (TLT). Investors who want to invest in the real estate sector as a whole should look at the iShares Mortgage Real Estate ETF (REM).