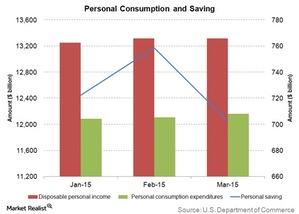 Higher Consumer Spending in March Should Benefit Banks
By Rekha Khandelwal, CFA

May. 21 2015, Updated 11:06 a.m. ET
Consumer spending grows – slowly
According to the latest data from the Department of Commerce released on April 30, personal consumption expenditure in current dollars rose 0.4% in March. It rose 0.2% in February after declining in December and January.
One of the main reasons for consumer spending remaining low in the first quarter of 2015 is the harsh winter. But continuing slow growth indicates that consumers are not very confident about the overall economy and are still cautious.
Article continues below advertisement
Savings rate declines
Personal income and disposable personal income both increased less than 0.1% in March. So it wasn't substantially higher income that contributed to increased spending. Spending grew as the savings rate declined to 5.3% in March from 5.7% in February. The personal savings rate is personal saving expressed as a percentage of disposable personal income.
The above graph shows the growth in personal consumption expenditures and the decline in savings in March.
Higher spending benefits banks
Higher spending typically means higher credit card and other consumer loans, which benefit banks. Banks such as J.P. Morgan (JPM), Citigroup (C), Wells Fargo (WFC), and Capital One (COF) have significant consumer loan portfolios. A growth in consumer spending should have a positive impact on these banks. Together, the four banks form ~22.5% of the Financial Select Sector SPDR ETF (XLF).
Over the longer term, higher spending indicates a generally growing economy. This leads to a higher loan demand and increased capital market activity, which are positives for the banking sector.
This doesn't mean that savings are always bad for the economy. Savings generally end up as deposits in a bank. The banks may lend this money to industries, which helps economic growth. Banks may also use savings to extend consumer credit. The general argument is that a sudden rise in savings and a decline in consumer spending hurts growth.