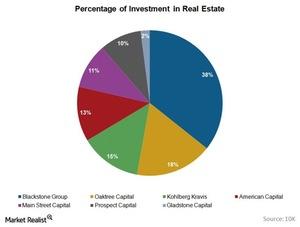 Demystifying Special-Purpose Acquisition Companies
By Arthur Penn

Nov. 20 2020, Updated 12:27 p.m. ET
Asset allocation of major PE funds in real estate
Investors can also invest in publicly traded shell companies that make private-equity investments in undervalued private companies. A special-purpose acquisition company (or SPAC) is a corporation formed by private individuals to facilitate investment through an initial public offering (or IPO). The proceeds are used to buy one or more existing companies.
When money is raised via an IPO for a SPAC, the funds are committed into a trust until the purchase is made or a predetermined period of time lapses. If the deal and associated legal formalities are not completed by the deadline, the money is refunded to the investors with allowances for bank and broker fees. The SPAC management personnel by law are not allowed to collect salaries during this time.
Article continues below advertisement
As a result of increased regulation by the Securities and Exchange Commission (or SEC) following high profile abuse cases in recent years, SPACs have begun to proliferate in various industries. The SPAC route sometimes makes it possible for companies to go public when they cannot afford to do so by conventional means. The SPAC substitute can also be attractive when credit is tight.
SPACs offer unique investment opportunities with defined acquisition goals. Because a SPAC has a limited lifetime, it's difficult to find one that is currently active. An example of a SPAC still looking for an acquisition is Hicks Acquisition Company II (HKAC). A SPAC that has announced an acquisition but is waiting for shareholder approval is RLJ Acquisition. A former SPAC that is now a regular company is Retail Opportunity Investments (ROIC).
Some of the liquid real estate ETFs are CBL & Associates Properties (CBL), the iShares US Real Estate ETF (IYR), Toll Brothers (TOL), Retail Opportunity Investments (ROIC), and Forest City Enterprises (FCE.A).