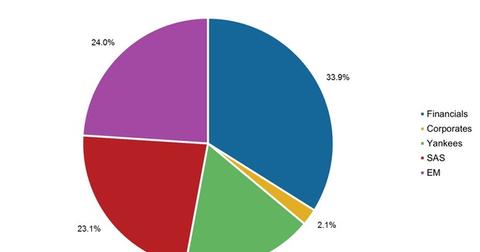 US Financials Return to the High-Grade Primary Market
By David Ashworth

Apr. 28 2015, Updated 1:06 a.m. ET
Deals overview
After several weeks of dominance by Yankee bonds, US financials hit the primary market in a big way in the week ending April 17. Bonds issued by investment-grade US financial companies made up 33.9% of all issues. Yankee bonds accounted for 16.9% of the total, with the entire quantum raised by financial companies.
On the other hand, US corporates accounted for just 2.1% of all issues in the week. The week ending April 17 brought the year-to-date issuance of corporate investment-grade debt to $497.31 billion.
Issuances by investment-grade corporates form part of the iShares iBoxx $ Investment Grade Corporate Bond Fund (LQD). Treasuries—the other investment-grade bond category—are tracked by ETFs like the iShares 1–3 Year Treasury Bond ETF (SHY).
Last week, US financial major Bank of America Corporation (BAC) issued bonds worth $5.0 billion, making it the highest issuer in the period.
Article continues below advertisement
Details of Bank of America's issue
Bank of America Corporation (BAC) issued bonds worth $5.0 billion. The three-tranche issue consisted of:
$2.0 billion in 2.25% Baa2/A- rated five-year notes at a spread of 100 bps over similar maturity Treasuries
$2.5 billion in 3.95% Baa3/BBB+ rated ten-year notes at a spread of 210 bps over similar maturity Treasuries
$500 million in 4.75% Baa3/BBB+ rated 30-year notes at a spread of 220 bps over similar maturity Treasuries
Details of Standard Chartered's issue
Standard Chartered Plc is a provider of banking products and financial services to clients in Asia, Africa, and the Middle East. It issued investment-grade bonds worth $3.0 billion. The A2/A- rated four-tranche issue consisted of:
$250 million in three-year FRNs (floating rate notes) at three-month LIBOR + 64 basis points
$750 million in 1.70% three-year notes at a spread of 85 bps over similar maturity Treasuries
$1.25 billion in 2.25% five-year notes at a spread of 90 bps over similar maturity Treasuries
$750 million in 3.20% ten-year notes at a spread of 130 bps over similar maturity Treasuries