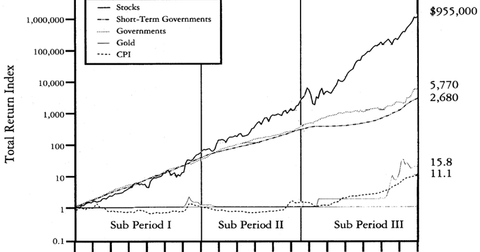 Long-Term Investing Pays the Best
By Saul Perez

Apr. 2 2015, Updated 8:05 a.m. ET
Buffett's investing style
There are three broad aspects of Warren Buffett's investing style:
investment philosophy
security selection
psychology of investing
He has important things to say about all three. In this series, we'll cover Buffett's ten most important commandments.
Article continues below advertisement
Buffett's 50-year record is all the proof you need
The biggest investing lesson to be learned from Buffett's fifty years at Berkshire Hathaway (BRK-B) is this—long-term investing is good.
Buffett has averaged an annual compound gain of 21.6% over these fifty years. In absolute terms this is, hold your breath, a return of 1,826,163%! How did he do it? By investing in good companies, holding them for a long time, and letting compound gains do the rest.
The power of compound gains is exponential
Assume you're as good an investor as Buffett. You want your portfolio to grow 50 times. At Buffett's 21.6% rate of return it would take you approximately 20 years to achieve this. Now, you decide to reduce your investment time horizon to 15 years. What will be the impact on your returns? In 15 years, at Buffett's rate of returns, your portfolio will grow only 19 times. Can you see the impact just five years has on your investments? This is the power of compound gains.
Most of the money Buffett made in stocks including Wells Fargo & Co. (WFC), Coca-Cola (KO), and IBM (IBM) is the result of multi-decade investing.
Long-term investing helps keep costs low
Another benefit of long-term investing is that you spend less money on brokerage fees and other costs associated with frequent trading. The money saved adds to the portfolio and earns higher returns. Investing in ETFs such as the iShares Core S&P 500 ETF (IVV) can also help you keep costs to a minimum.