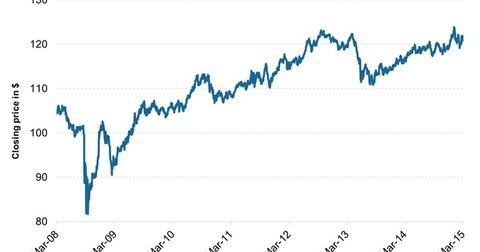 Why Investment-Grade Bond Yields Hardly Changed Week-over-Week
By David Ashworth

Apr. 2 2015, Updated 8:01 a.m. ET
Economic indicators push yields down
Investment-grade bonds refer to both US Treasuries, which are issued by the Treasury Department, and corporate bonds, which are issued by high-quality corporate borrowers. Credit ratings agency S&P (Standard & Poor's) considers issuances as investment-grade if they have a rating of BBB- or higher. Investment-grade bonds tend to closely follow developments in the Treasuries markets.
ETFs like the iShares Barclays 20+ Year Treasury Bond Fund (TLT), the iShares Barclays 7-10 Year Treasury Bond Fund (IEF), and the iShares Barclays 1-3 Year Treasury Bond Fund (SHY) invest in US Treasuries of varying maturities. On the other hand, ETFs like the iShares iBoxx $ Investment Grade Corporate Bond Fund (LQD) invest in investment-grade corporate debt issues. Debt issued by companies such as Verizon (VZ), Goldman Sachs (GS), and General Electric (GE) are among the major holdings of LQD.
Article continues below advertisement
Bonds responded to a bevy of important economic indicators that were released last week. Yields moved down after US economic growth was left unrevised at 2.2% for 4Q14. Several participants were expecting growth to be revised upwards. Consumer spending had been revised higher than estimated. However, a surge in imports, along with negative movements in other components, suppressed this rise. Imports rose due to a stronger dollar, which made international goods cheaper than US-produced goods.
A report on the CPI (consumer price index) was also released. Though the CPI rose 0.2% in February after a 0.7% fall in January, its annual pace still remained way below the Fed's long-term goals of 2%. This comforted bonds, as it indicated that the central bank may remain cautious about the timing of raising the federal funds rate. A rate rise could increase yields on bonds, pushing their prices down.
Article continues below advertisement
High issuance keeps yields in check
Corporate bond issuances had taken a breather in the week up to March 20, as they were awaiting the Fed's guidance on monetary policy. Except for that week, March has seen over $60 billion in weekly issuance in the primary markets for two successive weeks. Yields have been kept in check due to these high issuances.
Yield movement
Corporate bond yields surged on March 26. Treasuries with long maturities came under pressure after weak demand at the seven-year Treasury notes auction. The Bank of America Merrill Lynch US Corporate Master Effective Yield rose the sharpest in its one-day movement. Yield rose by seven basis points on March 26 to end at 3.01%. However, the economic growth report released on March 27 brought the yield to 2.95%.
In this series, we'll look at investment-grade corporate debt issuances for the week ended March 27 in detail. But first, let's take a look at how yields on corporate bonds have fared in 2015 so far in the next part of this series.