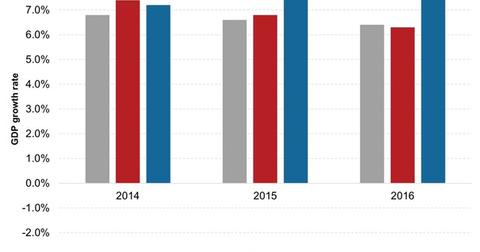 International Monetary Fund: India's Economic Growth Outlook
By David Ashworth

Updated
India's economic growth
India (INDA) is among the few nations about which the IMF (International Monetary Fund) seems positive. The agency revised its estimates for India's economic growth up by 1.2% for 2015 and 1% for 2016. In both years, the IMF estimates India's economy will grow by 7.5%, outpacing China's 6.8% in 2015 and 6.3% in 2016.
Policy reforms initiated by the new government, led by Prime Minister Narendra Modi, are expected to make India a friendlier place for foreign businesses. This is expected to bring in investment and help cash-starved projects, particularly in infrastructure.
Article continues below advertisement
What's more, India may be among the biggest beneficiaries of the fall in crude oil prices. The tailwind from lower oil prices should leave more money in the pockets of consumers, who are expected to spend this windfall. A fall in lending rates by banks including ICICI Bank (IBN) and HDFC Bank (HDB) are also expected to boost spending.
The WisdomTree India Earnings ETF (EPI) has returned 24% in the past year, and the iShares MSCI India Index Fund (INDA) has returned 25%.
China's economy
China has taken deliberate steps to curb asset bubbles in its economy. Excesses in the credit, real estate, and investment markets helped the Chinese economy surge ahead by 7.4% in 2014. Yet although the Asian dragon is likely to experience a slowdown as a result, these curbs will make its growth more sustainable.
Implementation of structural reforms are expected to buffer the slower economic pace. Reforms include hukou (household registration), aimed at the labor markets. Another structural reform is aimed at improving the country's public finances.
The iShares China Large-Cap ETF (FXI), which has ~17% of its assets invested in China Mobile (CHL), China Life Insurance (LFC), and PetroChina (PTR) combined, has returned 45% this past year.
Investors should watch and see if the Chinese government is able to implement its reform agenda aimed at addressing financial risks. The government needs to succeed in making China more consumption rather than investment oriented. If not, bubbles will result and drive down growth there sharply.
Companies in emerging Asia, which have borrowed heavily in US dollars, remain at risk if the greenback strengthens further. A monetary policy shift in the US may also result in money fleeing from these nations to the US.