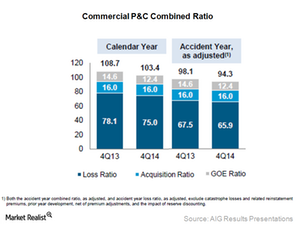 AIG's commercial P&C business sees improved underwriting results
By Sean Millard

Mar. 17 2015, Updated 11:05 a.m. ET
Combined ratio
The profitability of a property and casualty (or P&C) insurance businesses is measured by its combined ratio. These businesses include AIG (AIG), ACE (ACE), Allstate (ALL), Chubb (CB), and insurers held by the Financial Select Sector SPDR ETF (XLF).
The combined ratio is calculated as the total underwriting expenses of a P&C insurer as a percentage of premiums received. Hence, a combined ratio below 100% implies an underwriting profit while a ratio above 100% implies a loss.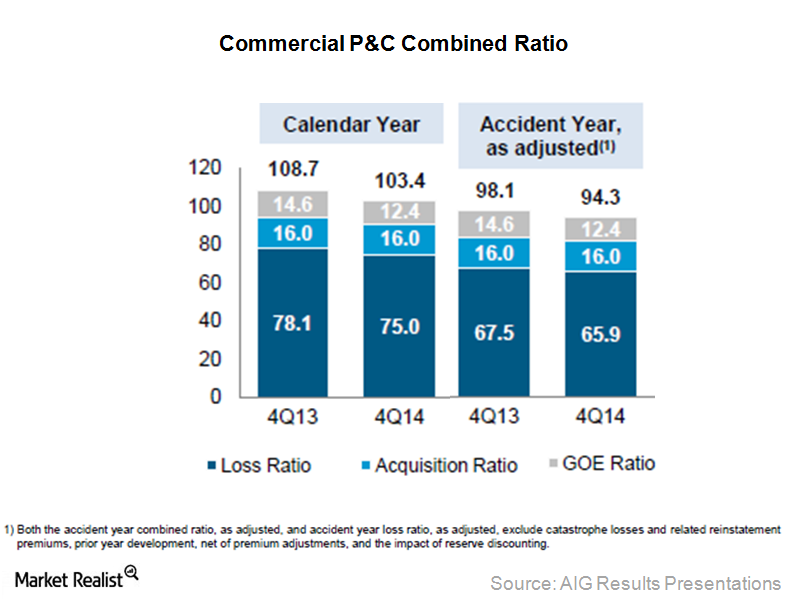 Article continues below advertisement
Loss and expense ratios
The combined ratio can be divided in three parts. Expenses relating to claims losses are captured by the loss ratio, while those related to customer acquisition and administrative expenses are shown by acquisition and administrative expense ratios, respectively.
The combined ratio can be impacted by several factors, like one-off losses arising due to large catastrophes, or estimate changes for insurance reserves resulting in reserve strengthening or release. In order to analyze the profitability of the operations of a P&C insurer, we need to remove the impact of such factors.
In the above charts, accident year loss ratios and combined ratios exclude the impact of catastrophe losses and prior year reserve developments.
Improved profitability
The combined ratio of AIG's commercial P&C business improved in 4Q14, when compared with the 4Q13 ratio. Although lower catastrophe losses helped improve profitability, reserve strengthening and adverse assumption changes impacted the loss ratio negatively, resulting in an above-100% combined ratio.
However, excluding these items, the businesses delivered profitable underwriting. While acquisition ratio remained flat over these periods, administrative expense ratio improved due to the company's efforts to reduce general operating expenses.