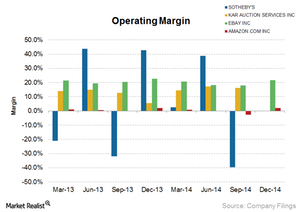 Earnings for Sotheby's Drop on Higher Expenses
By Stuart McKenzie

Mar. 27 2015, Updated 5:05 p.m. ET
Fourth-quarter earnings take a nosedive due to higher costs
Over the course of less than 12 months, Sotheby's (BID) had to deal with higher expenses, turmoil in the boardroom, and a second attack from an activist investor. As a result, the company's earnings took a nosedive in 4Q14.
Following the fourth-quarter earnings announcement, shares of Sotheby's fell by 6.5% during early trading on March 2, 2015. Pre-tax charges related to the transition of the company's CEO totaled $7.5 million.
Revenues rose to $351.2 million, showing a 3.5% increase that beat analyst estimates. However, net income fell to $73.9 million. This was a 18.5% drop from $90.8 million during the prior-year period. Total expenses increased by 14.4% to $222.2 million.
In 2013 and 2014, Sotheby's recognized special charges of $1.4 million and $20 million, respectively, in relation to legal and advisory services for shareholder activism and the proxy battle with Daniel Loeb's Third Point.
In February, Sotheby's declared a quarterly dividend of $0.10 per share. The dividend has an annual yield of 0.9%. Last year, the company declared a $300-million special dividend.
No other publicly traded auction houses have characteristics that are similar to those of Sotheby's, so we compared Sotheby's to other companies that have cyclical stocks. Specialty jeweler Tiffany & Co. (TIF) and fashion retailer Nordstrom (JWN) have dividend yields of 1.7% and 1.8%, respectively.
Investors can choose the Vanguard Consumer Discretionary ETF (VCR) to gain exposure to stocks in the consumer discretionary sector. Sotheby's makes up 0.14% of the iShares Russell 2000 ETF (IWM).
Article continues below advertisement
Sotheby's teams up with RM Auctions to expand in luxury car market
RM Auctions, the leading auctioneer for collector cars, and Sotheby's recently announced the establishment of a strategic alliance. In this deal, Sotheby's acquired a 25% ownership interest in RM Auctions, which adopted the name RM Sotheby's.
According to estimates, the market for the world's finest automobiles exceeds $2 billion. The partnership is offering both companies a wide range of opportunities for tapping into this growing market.
Sotheby's unveils new structure for buyer premium rates
In order to enhance revenues and bolster commission margins for auctions, Sotheby's has introduced a new structure for buyer premium rates. In this new structure, buyers need to pay a premium of 25% for the first $200,000 of the sale price, 20% for the amount of sale price between $200,000 and $3 million, and 12% on amounts exceeding $3 million. The previous rate structure had buyers paying premiums of 25% for the first $100,000 of the sale price, 20% for the amount of sale price between $100,000 and $2 million, and 12% on amounts exceeding $2 million.
The next part of this series will outline the various reasons why Marcato Capital has adopted an activist stance against Sotheby's.