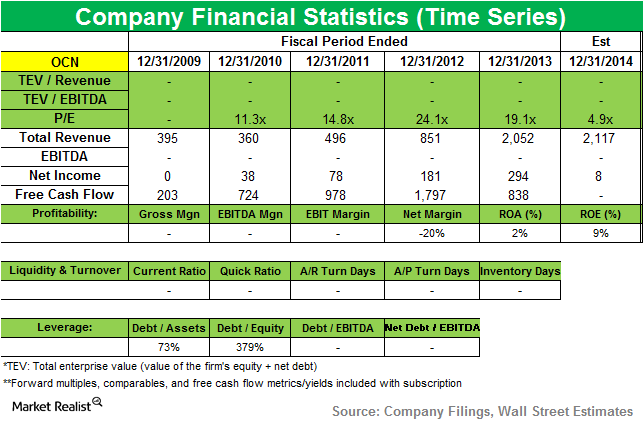 Baupost Group Lowered Its Stake in Ocwen Financial
Baupost Group lowered stake in Ocwen Financial
The Baupost Group lowered its position in Ocwen Financial (OCN) during 4Q14. The position accounted for 1.77% of the total portfolio in 4Q14. The fund disclosed ownership of 5,967,050 shares—down from 7,001,700 shares in 3Q14. The fund added the stake in 3Q14.
Article continues below advertisement
Overview of Ocwen Financial
Ocwen Financial is a financial services holding company. Through its subsidiaries, it's one of the largest mortgage companies in the US. The company is the fourth largest mortgage servicer in the US. It operates in the servicing industry with an emphasis on foreclosure prevention. It helps to keep borrowers in their homes. Its primary lines of business are servicing and lending.
Ocwen has a 0.67% exposure to the SPDR S&P Bank ETF (KBE). According to the ETF fact sheet, "The S&P Banks Select Industry Index is a modified equal-weighted index that seeks to reflect the performance of publicly traded companies that do business as banks or thrifts."
Ocwen's market value dropped
Last year, Ocwen was targeted for its practices in handling struggling mortgage borrowers and its dealings with its affiliated companies. William Erbey, Ocwen's chairman, resigned earlier this year. He was also the chairman for Altisource Portfolio Solutions (ASPS), Home Loan Servicing Solutions Ltd. (HLSS), Altisource Asset Management Corp. (AAMC), and Altisource Residential Corp. (RESI).
Ocwen and its affiliates lost most of its market value last year. It was named in an investigation by the New York DFS (Department of Financial Services).
Article continues below advertisement
The California DBO (Department of Business Oversight) considered suspending Ocwen's California residential mortgage lending and servicing license for up to one year. Ocwen agreed to pay a $2.5 million fine to California. A report on the Market Realist website also noted that Ocwen settled with New York State earlier. It agreed to pay $50 million in damages. It agreed to pay another $100 million for foreclosure relief and community redevelopment programs.
New Residential Investment to acquire Home Loan Servicing Solutions
In February, New Residential Investment (NRZ) announced the acquisition of Home Loan Servicing Solutions for $18.25 per share in cash. It totaled ~$1.3 billion. The purchase price represents a 9% premium to Home Loan Servicing Solutions' closing price of $16.76 on February 20, 2015.
Separately, Nationstar Mortgage LLC, a subsidiary of Nationstar Mortgage Holdings Inc. (NSM), also acquired the residential MSRs (mortgage servicing rights) on a portfolio from Ocwen. The portfolio consisted of around 81,000 performing loans owned by Freddie Mac (FMCC). It had a total principal balance of ~$9.8 billion.
Ocwen expects to report a loss for 4Q14 and fiscal year 2014
In a new update on March 2, Ocwen said it "expects to report a loss for the fourth quarter and 2014 fiscal year." Results will be impacted by a "$370 – $420 million non-cash charge to write-off goodwill" and "creation of a $15 million reserve relating to its remediation plan to address issues around certain erroneously dated borrower correspondence."
In the next part of this series, we'll discuss Baupost Group's updated position in Syneron Medical.