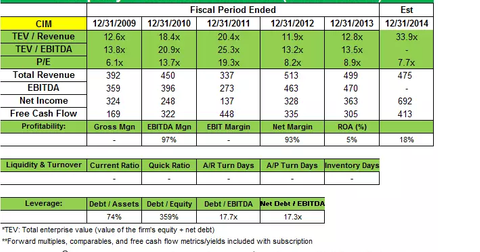 Omega Advisors decreases position in Chimera Investment
By Adam Rogers

Updated
Omega Advisors and Chimera Investment
Omega Advisors has decreased its position in Chimera Investment (CIM) by over $35 million. The position now represents 2.70% of the fund's total portfolio in 4Q14, down from 2.89% in the third quarter. CIM has a 0.40% exposure to the iShares US Real Estate ETF (IYR). The ETF tracks the overall performance of 111 publicly traded companies in the real estate sector.
Article continues below advertisement
Overview of Chimera Investment
Chimera Investment invests in residential mortgage loans, residential mortgage-backed securities (or RMBS), real estate-related securities, and various other asset classes. The company's principal business objective is to generate income from the spread between yields on its investments and its cost of borrowing and hedging activities.
The company is a Maryland corporation that has elected to be taxed as a real estate investment trust, or REIT. It's externally managed by Fixed Income Discount Advisory Company, a wholly owned subsidiary of Annaly Capital Management (NLY).
Chimera Investment declares dividend for fourth quarter
In December 2014, the Board of Directors declared a cash dividend for 4Q14 of $0.09 per common share. This dividend is payable January 29, 2015, to common shareholders of record on December 31, 2014. The ex-dividend date is December 29, 2014.
Article continues below advertisement
Chimera Investment's 3Q14 results beat estimates
Chimera Investment's (CIM) 3Q14 net income grew to $378 million, or $0.37 per average share, compared to net income of $67 million, or $0.07 per average share, in the corresponding period a year ago. A change in unrealized gain on financial instruments at fair value of $191 million drove earnings growth.
Core earnings grew to $116 million, or $0.11 per share, compared to $93 million, or $0.09 per share, in the year-ago period. The growth was mainly due to an increase in net interest income from the acquisition of additional agency RMBS during the second and third quarters of 2014.
Interest income rose by $60 million to $190 million for the quarter ended September 30, 2014, from $130 million for the corresponding period in 2013. The increase was due to a growth in agency holdings of approximately $6.0 billion acquired at the end of the second quarter. It was also due to the increase in securitized loans of approximately $4.8 billion acquired during the third quarter.
Net interest income on its agency RMBS portfolio increased by $35 million, and net interest income on the securitized loan portfolio increased by $25 million.
Omega Advisors' holdings
The hedge fund started new positions in Time Warner (TWX) and Gilead Sciences (GILD), while it sold its positions in Sprint (S), Thermo Fisher Scientific (TMO), and Halliburton (HAL). Omega Advisors increased its position in Ashland (ASH) and Groupon (GRPN). The fund decreased its position in Chimera Investment Group (CIM), JP Morgan Chase (JPM), and Apple (AAPL).