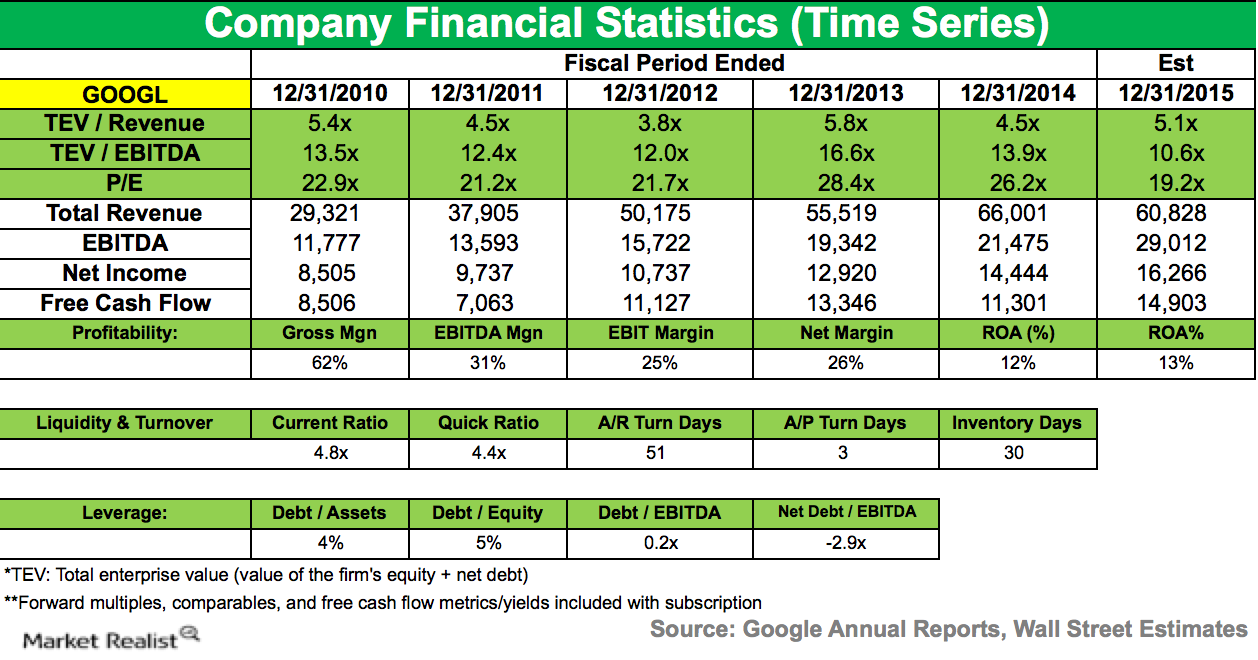 Appaloosa Management lowers stake in Google
Appaloosa Management and Google
Appaloosa reduced its position in Google (GOOG)(GOOGL) during the fourth quarter. Google accounted for 11.34% of the fund's 4Q14 portfolio. The fund currently holds 499,887 shares of GOOG and 369,687 shares of GOOGL.
In April 2014, Google split its stock two-for-one, creating two classes of shares. Class A shares trade under the ticker GOOGL and have voting rights, while Class C shares trade under the ticker GOOG and have no voting rights. By splitting stock, companies increase the number of outstanding shares while lowering stock prices accordingly.
Article continues below advertisement
Google in brief
Google provides Internet-related services and products. These include advertising technologies, search, cloud computing, and software.
You can gain exposure to Google by investing in the iShares Russell 1000 Growth ETF (IWF). GOOG and GOOGL account for 1.39% and 1.38% of IWF, respectively.
Google shares jump despite disappointing fourth-quarter results
Google's Nexus 6 and 7 devices received a good response in the market, but Google was unable to secure sufficient inventory. Google largely exited the mobile-making market by selling its Motorola unit to Lenovo Group in October 2014.
The strengthening of the US dollar impacted Google's revenues by $468 million in 4Q14. Fourth-quarter consolidated revenue was up 15% YoY (or year-over-year) to $18.1 billion and was up 10% sequentially.
During the fourth quarter, GAAP (or generally accepted accounting principles) net income was $4.76 billion compared to $3.38 billion in 4Q13. GAAP EPS (or earnings per share) was $6.91 compared to $4.95 in 4Q13.
Google site revenue increased by 18% YoY and by 10% sequentially to $12.4 billion. Mobile search traffic partially drove this growth.
Network revenue grew 6% YoY and 8% sequentially to $3.7 billion, driven by AdSense for search business. Increased clicks partially offset this. Cleanup efforts resulted in fewer clicks.
Other revenue grew 19% YoY and 6% sequentially to $2 billion. Google Play store growth partially offset by foreign exchange losses drove this increase.
Global paid clicks were up 14% YoY and 11% sequentially. Network paid clicks were down 11% YoY and 7% sequentially.
US revenue was up 14% YoY to $7.9 billion and UK revenue was up 10% to $1.7 billion. Revenue from other geographic regions grew 18% YoY to $8.6 billion, accounting for 47% of Google's total revenue.
Google's fourth-quarter results missed almost every analyst's estimate, but shares still rose 5% on the day of the earnings release.
Article continues below advertisement
Full-year 2014 results
For the full year 2014, Google reported revenues of $66 billion, up 19% YoY.
Appaloosa's other 4Q14 positions
David Tepper's Appaloosa Management initiated new positions and sold some existing positions during the fourth quarter of 2014. Appaloosa added a new position in American Realty Capital Properties (ARCP). The fund sold positions in some of its largest companies, including Citigroup (C), Halliburton (HAL), Facebook (FB), and CBS Corporation (CBS). Appaloosa also reduced its holdings in Delta Air Lines (DAL) and the Priceline Group (PCLN).
In the next part of this series, we'll discuss Appaloosa's reduced position in Delta Air Lines.