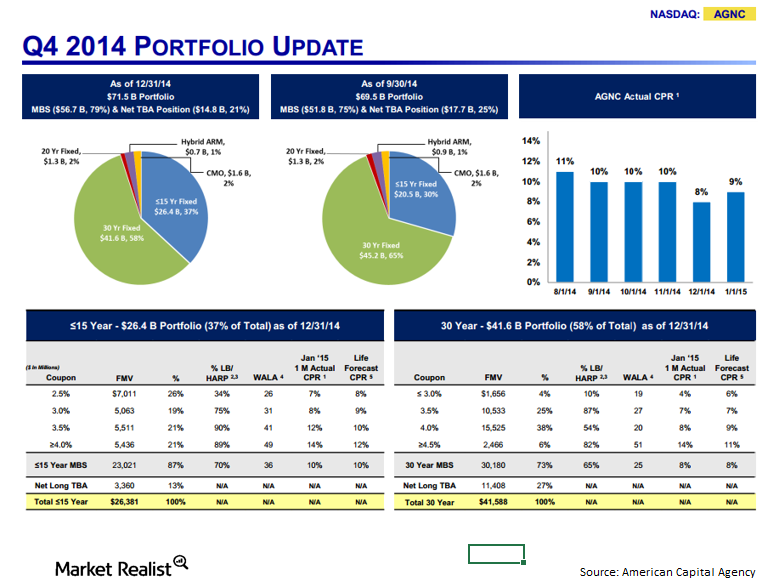 Why American Capital Agency shortened duration during the quarter
By Brent Nyitray, CFA, MBA

Feb. 6 2015, Updated 9:05 a.m. ET
American Capital Agency's primary investments
As one of the largest agency REITs, American Capital Agency (AGNC) invests primarily in mortgage-backed securities, or MBS, that are guaranteed by the US government. This means primarily Fannie Mae, Freddie Mac, and Ginnie Mae securities.
American Capital Agency tends to stick to fixed-rate MBS. This makes the company similar to Annaly Capital Management (NLY). While American Capital Agency has some exposure to adjustable-rate MBS, they're a tiny part of its portfolio. This separates American Capital Agency from other agency REITs—like MFA Financial (MFA), Capstead (CMO), or Hatteras (HTS).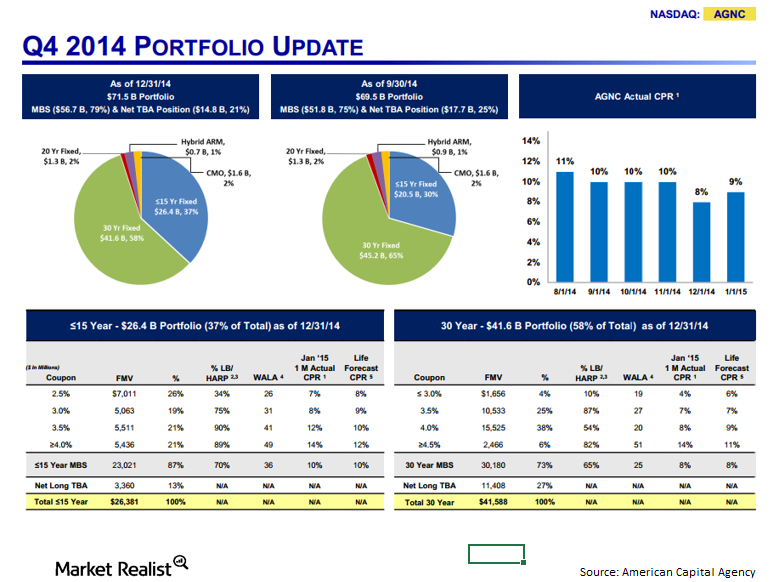 Article continues below advertisement
The basics of American Capital Agency's portfolio
The company's balance sheet increased from $69.5 billion in assets to $71.5 billion in assets. It increased the size of its MBS portfolio. At the end of the year, 30-year fixed-rate mortgages accounted for 58% of the portfolio. 15-year MBS accounted for 37% of the portfolio. The rest of the portfolio includes some 20-year mortgages, collateralized mortgage obligations, and hybrid adjustable-rate mortgage, or ARM, securities.
Portfolio adjustments during the quarter
Since rates fell during the quarter, American Capital Agency made some adjustments to its portfolio—primarily by shortening duration and moving down coupon. These moves are intended to protect against adverse interest movements. They will also help decrease prepayment speeds.
By shortening duration, it reduces the negative impacts of a snap back in interest rates. By moving down coupon, the company reduces the prepayment risk. American Capital Agency decreased its duration by selling 30-year MBS and buying 15-year MBS.
To protect against prepayments, the company moved down in coupon. This decreased its holdings of 4% TBAs from $13 billion to under $5 billion. The company added some specified pools—as opposed to generic pools. It made most of the adjustments through the TBA market.
When this post was originally published, it mistakenly indicated that 39-year fixed-rate mortgages accounted for 58% of the portfolio. We have since updated the post to indicate that, in fact, 30-year fixed-rate mortgages accounted for 58% of the portfolio. We regret this error.