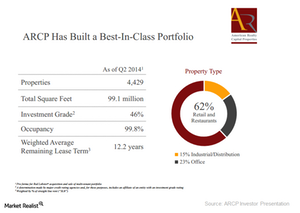 Must-know: American Realty Capital Properties' businesses
By Samantha Nielson

Updated
ARCP's business segments
We noted earlier that American Realty Capital Properties (ARCP) is a self-managed commercial REIT that Corvex Management has taken an activist stake in. This article will provide an overview of ARCP's businesses.
ARCP owns many of the buildings that well-known brands like Walgreens, FedEx, General Electric, Goodyear, and Proctor & Gamble use. ARCP collects rent from these tenants and passes a minimum of 90% of the taxable income received onto its shareholders. The company operates under two segments, REI (Real Estate Investment) and Cole Capital.
Article continues below advertisement
ARCP sees stable income from its REI (Real Estate Investment) segment
ARCP acquires, owns, and operates mainly single-tenant, freestanding commercial real estate properties. It invests in properties that are net leased to credit tenants, which are generally large public companies with investment-grade ratings and other creditworthy tenants. As of June 30, 2014, the company owned 3,966 properties comprising 106.8 million square feet of single and multi-tenant retail and commercial space located in 49 states, which include properties owned through consolidated joint ventures.
As of June 30, 2014, ARCP had leased 98.8% of the rentable space at these properties with a weighted average remaining lease term of 9.95 years. The company also owned 25 commercial mortgage-backed securities (or CMBS) and 14 loans held for investment. It also had, through unconsolidated joint ventures, interests in six properties comprising 1.6 million rentable square feet of commercial and retail space.
ARCP's revenue sources and strategy
The REI revenue consists mainly of rental income from net leased commercial properties that accounted for a majority of total REI revenue during the six months ended June 30, 2014. REI revenue also includes direct financing lease income and operating expense reimbursements. The latter represents reimbursements for taxes, property maintenance and other charges contractually due from the tenant per the respective lease. The company's long-term business strategy is to continue to acquire a diverse portfolio consisting of approximately 70% long-term leases and 30% medium-term leases, with an average remaining primary lease term of approximately 10 to 12 years. The company said its investment strategy aims to "maximize current cash flow and achieve sustainable long-term growth, thereby enhancing total return for its investors."
REITs have posted higher gains in 2014
Although shares of ARCP have been down since October due to accounting irregularities, its other triple net REIT peers, National Retail Properties (NNN), Realty Income (O), and W.P. Carey (WPC), have performed well.
A recent news report in The Wall Street Journal by Robbie Whelan noted that REITs have posted their largest returns in 2014 due to lower interest rates and a strengthening economy. The article cited data from the FTSE NAREIT Equity REITs Index, which follows the performance of 148 property companies.
ARCP and its peers are also part of the iShares Dow Jones US Real Estate ETF (IYR) and the Vanguard REIT Index ETF (VNQ). The next part of the series will highlight ARCP's Cole Capital segment.