Reaction of the market is captured in to-be-announced market
Mortgage loans are almost all securitized and traded to buy side investors such as pension funds, mortgage REITs, and insurance companies. Newly originated mortgages are sold in the to-be-announced (or TBA) market.
TBA trades are the ultimate input into the rate sheets lenders use when they quote you a loan. So if you're looking at a Fannie Mae conventional loan, the price of the current TBA will be used as an input into the firm's pricing sheet. Then the lender will add its own profit margins and costs and ultimately give you a quote for your loan. If you're applying for a VA (U.S. Department of Veterans Affairs) or FHA (Federal Housing Administration) loan, the lender will use the Ginnie Mae TBAs.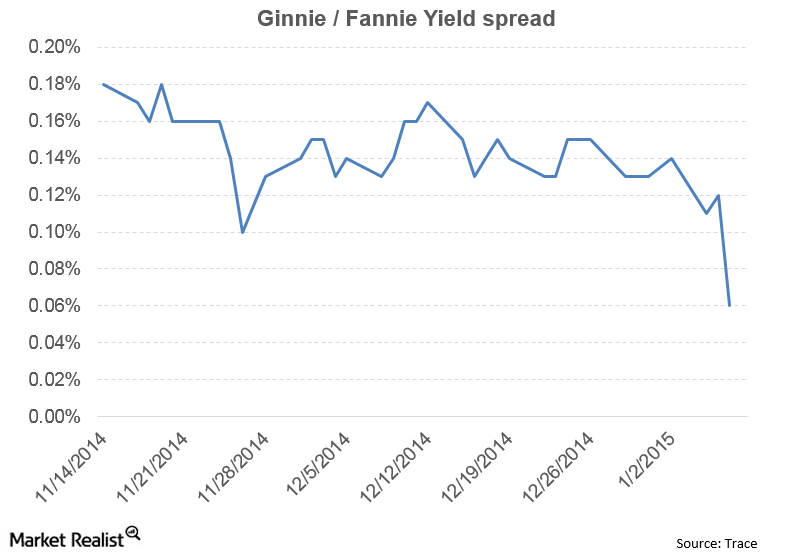 Article continues below advertisement
On the announcement, Ginnie Mae TBAs sell off versus Fannie Mae TBAs
After Obama announced the new insurance guidelines, the mortgage-backed securities market, especially the TBA market, reacted violently. Ginnie Mae TBAs sold off versus Fannie Mae TBAs. If you look at the above chart, you'll see the yield spread (or the difference) between Fannie Mae TBAs and Ginnie Mae TBAs.
Why did this happen? There are two explanations. First, the new rules will encourage FHA borrowers to refinance. This will bump up prepayment speeds and make the Ginnie Mae TBAs worth less. Second, the move will leave the FHFA (Federal Housing Finance Agency) insurance fund undercapitalized and therefore more risky from a lender's standpoint.
As an aside, this is the perfect example of the law of unintended consequences. The government wanted to make FHA loans cheaper for borrowers by lowering the insurance fee, but the MBS (mortgage-back securities) sold off. Remember, when bonds fall, yields rise. That made government loans across the board more expensive, even USDA (U.S. Department of Agriculture) and VA loans, which weren't affected.
Implications for mortgage REITs
Mortgage REITs are some of the biggest investors in mortgage-backed securities. FHA loans are usually 30-year fixed loans, which means they're more likely to end up in a portfolio held by Annaly Capital (NLY) or American Capital Agency (AGNC). These two REITs are most vulnerable to this move, which may increase their prepayment speeds.
This will cause early payoffs of their existing holdings and force them to reinvest those funds at lower rates. REITs such as MFA Financial (MFA), Hatteras (HTS), and Redwood Trust (RWT) either invest in nonagency paper or adjustable rate paper. This policy change should not affect these REITs.