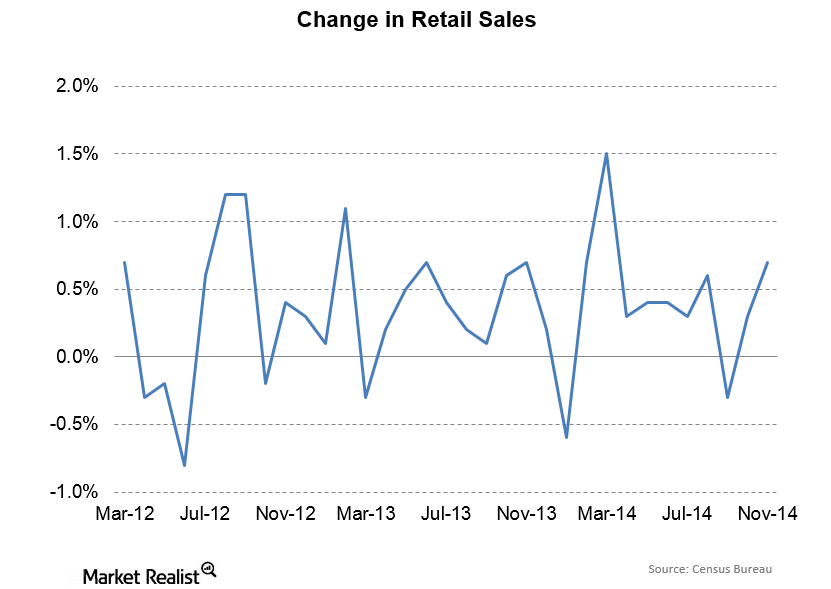 Does Falling Gas Mean A Merry Christmas For Retailers?
Retail sales data give analysts insight into consumer strength
Consumption is the US economy's biggest driver, and it accounts for 70% of GDP (gross domestic product). Consumption has been relatively subdued since the recession began. Americans have boosted their savings rate and spent only on essentials.
The real estate bubble drove consumption in the mid-2000s. People took out cash refinances and spent the extracted home equity. This increased the cost basis for many people's homes and left them vulnerable when house prices collapsed. So since then, they've focused more on paying down debt than spending. This deleveraging process has been going on for a while, but consumers are still indebted.
The Census Bureau releases retail sales data monthly. The report is the advance retail sales estimate, so it's based on incomplete data. The data are subject to revision, and the Census Bureau releases final sales data the following month.
Article continues below advertisement
Advance retail sales come in better than expectations
The headline retail sales number rose 0.7%, three-tenths of a percentage point better than expectations. Ex-autos' retail sales rose 0.5%. Ex-autos and ex-gasoline's retail sales were up 0.6%. Note that the fall in gasoline prices influenced the headline number. That said, falling gasoline prices increase other disposable income, and it looks like consumers did in fact spend it. The control group, which strips out some of the more volatile elements, was up 0.6%.
The big question, though, is when will all this pent-up demand finally get released? At the end of the day, consumers don't start spending after recessions because they want to. They do it because they have to.
For example, the car eventually becomes too expensive to keep fixing, and they finally decide to buy a new one. Right now, the average age of a car is 12 years, an all-time high. Car spending spurs job creation, which begins the virtuous cycle.
Implications for mall REITs
Consumer spending indirectly drives mall REITs. More spending drives more stores and lowers vacancy rates. Mall REITs include Simon Property Group Inc. (SPG), Taubman Centers, Inc. (TCO), Macerich Company (MAC), Federal Realty Investment Trust (FRT), and Realty Income Corporation (O).
Currently, mall vacancy rates are still elevated considering how far along we are in the recovery. Increased consumer spending has been one of the weakest recovery points, and perhaps this is finally easing. This would be good news for mall REITs.
Another way to invest in the REIT sector would be through the Vanguard REIT Index ETF (VNQ).