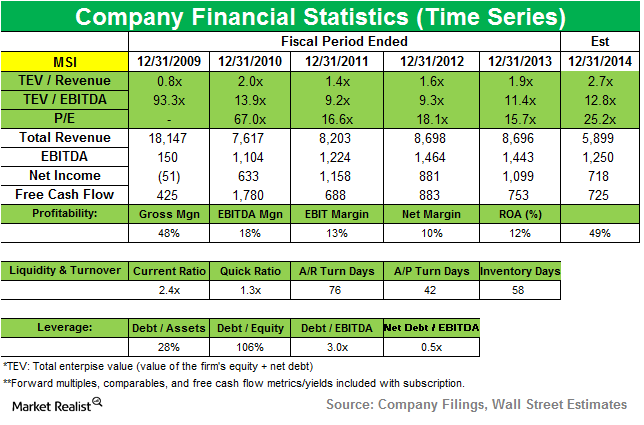 ValueAct Capital sells shares in Motorola Solutions
By Samantha Nielson

Nov. 27 2019, Updated 1:51 p.m. ET
ValueAct Capital lowers position in Motorola Solutions

According to 13D amendments since July, activist hedge fund ValueAct Capital amended its positions in Dresser-Rand Group (DRC), CBRE Group Inc. (CBG), Rockwell Collins Inc. (COL), Valeant Pharmaceuticals (VRX), and Motorola Solutions Inc. (MSI).
ValueAct Capital lowered its position in MSI. An amended 13D filing in November noted that the fund owns 17,588,576 shares. This is down from 28,907,623 shares—according to the fund's 13F filing for the second quarter that ended in June.
The latest 13D amendment said the fund owns a 7.8% stake in Motorola Solutions. The position in Motorola Solutions was initiated in June 2011. The position increased in 2012.
Share sale as part of Motorola's stock repurchase program
ValueAct said in its filing earlier in November that it entered into a stock purchase agreement with Motorola. ValueAct sold 11,319,047 million shares of the company at $66.26 per share in cash for an aggregate price of $750 million.
Article continues below advertisement
Motorola Solutions said in a statement that its purchase of the shares was part of its existing $12 billion stock repurchase program. The company added that the move indicated confidence in its business. It was also part of returning the proceeds from the recent sale of its Enterprise business to shareholders.
Bradley E. Singer, a partner at ValueAct Capital and member of Motorola Solutions' board of directors, said that "As part of the $5 billion share repurchase plan increase, the sale of our shares back to the company enables ValueAct Capital to both help accelerate the capital return to shareholders and proportionally size our ownership stake. We currently intend to maintain our position as one of the company's largest shareholders."
Overview of Motorola Solutions
Schaumburg-based Motorola Solutions Inc. provides technologies products and services. Its portfolio includes wireless handsets, wireless accessories, digital entertainment devices, set-top boxes, and video distribution systems. It manage its business through two segments:
The Products segment – offers an extensive portfolio of network infrastructure, devices, system software, and applications for the public safety, hospitality, education, manufacturing, transportation, utilities, mining, and retail industries. Products include ASTRO, TETRA, Professional and Commercial Radio (or PCR), integrated digital enhanced network (or iDEN) products, and broadband technology products—like Long-Term Evolution (or LTE). The segment also offers smart public safety solutions including computer-aided dispatch, records systems, data management systems, and Real Time Crime Center solutions. In 2013, the segment's net sales were $4.1 billion. This represented 66% of Motorola Solutions' consolidated net sales.
The Services segment – has a range of service offerings for public safety and private communication networks.
Sells enterprise scanner business to Zebra Technologies
MSI also closed the sale of its enterprise scanner business to Zebra Technologies for $3.5 billion. It was announced in April. The enterprise business provides mobile computing and advanced data capture communications technologies and services.
Article continues below advertisement
Although recent 3Q14 results beat estimates, Motorola's sales fell 5% to $1.4 billion. The decrease was mainly due to lower sales in North America and Asia-Pacific. Product sales declined 8% to $921 million. This was mainly driven by lower devices revenues. Services declined 1% to $515 million. It posted generally accepted accounting principles (or GAAP) earnings per share (EPS) from continuing operations of $0.27—down from $0.98 in the same period last year.
4Q14 outlook sees a revenue decline of 1%–3%
Motorola Solutions said it expects a "revenue decline of 1% to 3% compared with the fourth quarter of 2013." It expects non-GAAP EPS from continuing operations of $1.13–$1.19 per share. It said this was consistent with the "prior full-year outlook of low- to mid-single digit revenue decline, excluding iDEN."
It also said "it is ahead of schedule with operating cost reductions, expecting to achieve more than $200 million in savings in 2014 and on track to achieve approximately $300 million by the end of 2015. This will result in a total reduction in operating expenses from $2 billion in 2013 to approximately $1.7 billion for 2015."
The next part of this series will highlight amendments to ValueAct's stake in Valeant Pharmaceuticals.