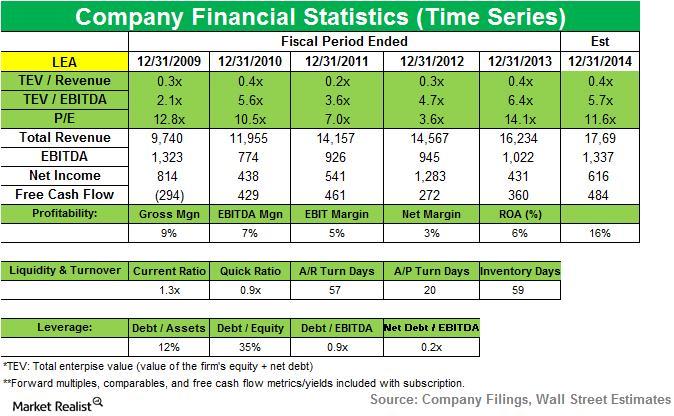 Lear stock accounts for 11% of Marcato portfolio
Marcato Capital adds to position in Lear Corporation
Marcato Capital's third-quarter 13F filing revealed a new position in Bank of New York Mellon Corp (BK). It raised its stakes in Avis Budget Group (CAR), Lear Corporation (LEA), and Sotheby's (BID). The only position sold during 3Q14 was a small stake in Brookfield Residential (BRP). In October, the fund made a 13D filing on NCR Corporation (NCR).
Marcato Capital added to its position in Lear corporation (LEA) during 3Q14. The stock accounted for 11.13% of the fund's portfolio for the quarter ending in September.
Article continues below advertisement
Lear Corporation: A world leader
Lear Corporation, headquartered in Southfield, Michigan, is one of the world's leading suppliers of automotive seating and electrical distribution systems. The company's world-class products are designed, engineered, and manufactured by a diverse team of approximately 122,000 employees located in 36 countries.
Profits and revenues up as seating sales rise
Lear reported Q314 sales of $4.2 billion, up 8% compared to sales of $3.9 billion in Q313, driven by a rise in global vehicle production. Core operating earnings were $251 million, net income $140 million, and adjusted earnings per share $1.93. This compares with core operating earnings of $207 million, net income of $113 million, and adjusted earnings per share of $1.45 for Q313.
In the third quarter, global vehicle production increased 3% from a year ago, reflecting primarily strong production growth in China and North America. Production was up 10% in China, 8% in North America, and 1% in Europe and Africa. Production was down 20% in South America.
In the Seating segment, sales were up 10% to $3.2 billion, reflecting the addition of new business and higher production on key platforms, while sales in the Electrical segment were up 13.3%, driven by an industry-leading cost structure and strong operating performance.
Article continues below advertisement
Acquisition of Eagle Ottawa boosts leadership in seating industry
In August, Lear announced plans to acquire Eagle Ottawa, the world's largest supplier of leather to the automotive industry. The addition of Eagle Ottawa will further strengthen Lear's global seating business, enhance Lear's position as the industry leader in luxury and performance automotive seating, and complement Lear's existing capabilities in the design and manufacturing of seat covers.
Management added that "Eagle Ottawa adds design and development resources, as well as technical expertise to our existing leather capabilities. Eagle Ottawa will enhance the level of craftsmanship, improve our overall cost structure and increase opportunities for sales growth and diversification."
The transaction is expected to close in the first quarter of 2015, subject to customary conditions, including regulatory approvals.
Improved 2014 financial outlook
Lear has increased its full year 2014 earnings outlook, reflecting strong year-to-date operating performance. The financial outlook for 2014 is based on industry vehicle production assumptions of 20.4 million units in Europe and Africa, 17.0 million units in North America, and 21.3 million units in China, all of which are in line with the prior outlook. Lear's financial guidance is based on an average full-year exchange rate of $1.33/Euro, down 3% from the prior outlook.
Sales in 2014 are expected to be approximately $17.7 billion, consistent with the prior guidance despite a weakening Euro. Core operating earnings are now expected to be in the range of $1,010 to $1,040 million, up from the prior range of $975 million to $1.025 billion. Free cash flow is expected to be approximately $450 million.
The next part of the series will highlight Marcato's position in Avis Budget group.