Wells Fargo has room to grow in the international arena
By Saul Perez

Oct. 6 2014, Updated 9:00 a.m. ET
Why an international presence is important
Banks have an international presence for several reasons. Banks may have large clients with global interests, or a big diaspora of clients in international locations. And banks may want to capitalize on these things. Being present in many countries helps banks profit from today's borderless economy. Lines of business that span across countries become accessible to international banks—lines such as retail or expatriate professionals' accounts.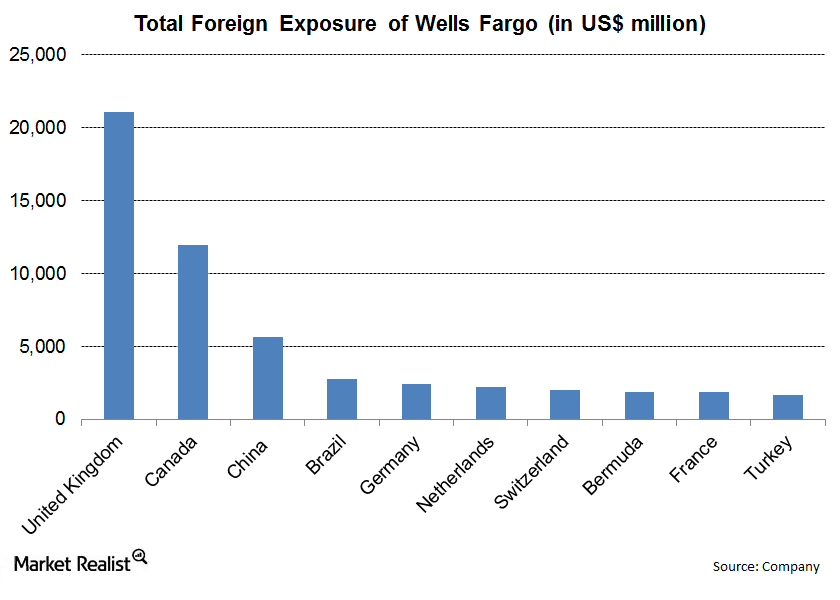 The pros and cons of going global
Article continues below advertisement
Some banks also want to reduce the risks of becoming overly dependent on just one country's economic performance. If one country's economy is not performing well, a bank can look to others that are doing better to increase its revenues and profits. Being global also helps a bank to leverage its brand. On the other hand, an international presence exposes a bank to risks from other economies.
Wells Fargo on the international stage
Though not an entirely domestic bank, Wells Fargo & Co (or Wells Fargo) (WFC) is largely U.S.-driven. For the year ended 2013, only 5.77% of its loan portfolio, or $47,665 million of a total $825,799 million, was international. Aside from the U.S., the top three countries where Wells Fargo offers loans are the United Kingdom, Canada, and China.
Wells Fargo's peers, Citibank, of Citigroup Inc (C) and JP Morgan Chase & Co (or JP Morgan) (JPM), have big international banking units. In terms of international presence, Wells Fargo is more like U.S. Bancorp (USB), or other small banks in the Financial Select Sector SPDR ETF (XLF).
Wells Fargo's initial strategy was to focus on the markets where it was strongest in the U.S. Only then would it expand into other areas via mergers and acquisitions, and branch expansion. In more recent years, the bank's strategy has shifted. It now wants to expand its reach and global market share.
Now that we have some idea about the geographical reach of Wells Fargo, let's look at the services the company offers, and its unique strengths and weaknesses.