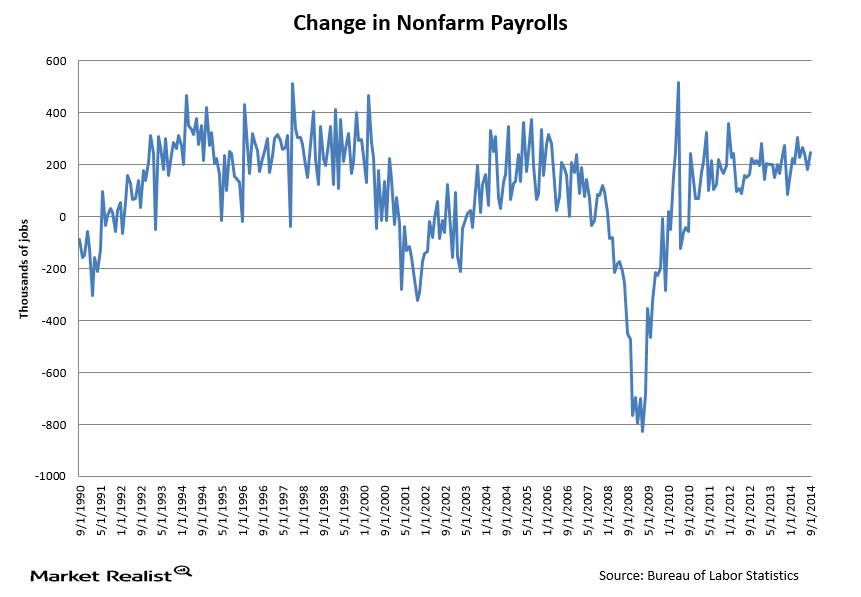 Why September's rising payrolls matter for office REITs
The Employment Situation Report
The Bureau of Labor Statistics puts out the Employment Situation Report. It contains all sorts of important data points regarding the state of the labor market—from the payroll data to the unemployment rate, the labor force participation rate, average hourly earnings, average weekly hours, and other key points.
These data are also broken down by demographics as well, making this report an important tool for investors.
At the end of the report are links to all sorts of tables and historical data.
The establishment and household surveys
The employment situation report is based on data from two different surveys:
The Current Population Survey, also known as the household survey
The Current Employment Statistics Survey, also known as the establishment survey
Article continues below advertisement
The household survey provides information on the labor force, employment, and unemployment. The establishment survey covers employment, hours, earnings, and payrolls. The household survey covers the entire non-institutionalized civilian population. Meanwhile, the establishment survey covers people who are working in the private sector or government.
Payroll data
In September, payrolls increased by 248,000, which came in well above Wall Street expectations of 215,000. The ADP survey predicted the number would come in at 213,000. But the ADP numbers predict the final revisions, not the initial survey.
Private payrolls increased by 236,000 while manufacturing payrolls rose by 29,000. Private services payrolls increased by 207,000. Government employment increased by 12,000 jobs.
Implications for office REITs
Vacancy rates drives office REITs, including Vornado Realty Trust (VNO), S.L. Green (SLG), Boston Properties (BXP), Douglas Emmett (DEI), and Highwoods (HIW). These rates are a function of new business creation and the expansion of existing businesses. Increasing employment numbers are good news for these REITs. They'll help push down vacancy rates, which are still at elevated levels following the Great Recession.