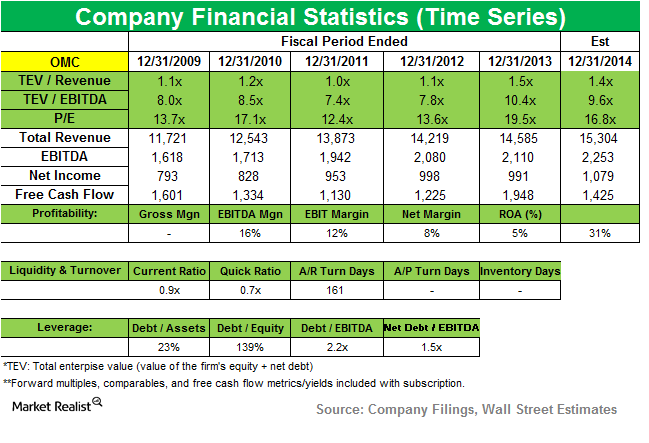 Must-know: Davidson Kempner sells stake in Omnicom
Davidson Kempner and Omnicom
Davidson Kempner Capital added new positions in Ally Financial Inc. (ALLY), WL Ross Holding (WLRH), Newell Rubbermaid (or NWL), and B/E Aerospace (or BEAV). It exited positions in Equity Commonwealth (EQC), Omnicom (OMC), and JPMorgan Chase & Co. (JPM).
Davidson Kempner exited a position in Omnicom (OMC) that accounted for 1.93% of the fund's 1Q14 portfolio. The position was initiated in 1Q14.
Overview of Omnicom

Article continues below advertisement
Omnicom is a leading global advertising, marketing, and corporate communications company. Omnicom's branded networks and numerous specialty firms provide advertising, strategic media planning and buying, digital and interactive marketing, direct and promotional marketing, public relations, and other specialty communications services. It offers its services to over 5,000 clients in more than 100 countries.
Omnicom is one of the big four agency companies. It's second to WPP (or WPP.L). Publicis and Interpublic are ranked third and fourth, respectively.
Omnicom and Publicis end $35 billion merger deal
Market Realist highlighted Davidson's Kempner's 1Q14 positions in an article in June. The article said that Omnicom Group (OMC) and its French peer, Publicis Groupe, called off their $35 billion merger. Publicis owns ad agencies like BBH, Leo Burnett, Publicis Worldwide, and Saatchi & Saatchi. Both companies agreed to a merger of equals in July 2013. The merger would create the world's leading company in communications, advertising, marketing, and digital services. The company would have a combined revenue of $22.7 billion.
Article continues below advertisement
A press release said that the parties jointly announced the merger's termination. There were difficulties completing the transaction in a reasonable time frame. News reports noted that there were tax and regulatory issues. There was also a struggle for control and a "cultural clash" between the two organizations. The reports noted that the boards disagreed on key management appointments like the CEO and CFO.
Organic revenue grows 5.8% year-over-year (or YoY)
In its recent 2Q14 earnings announcement, Omnicom posted a 6.4% increase in revenue to $3.87 billion—from $3.63 billion in 2Q13. Net income rose 12.3% to $325.2 million—from $289.5 million in 2Q13. Diluted net income per common share was $1.23 per share versus $1.09 per share during 2Q13. The results beat analyst estimates.
Omnicom's management said that its organic growth increased revenue 5.8% YoY. It's the "best growth rate posted since the third quarter of 2011."
Article continues below advertisement
Omnicom's organic revenue in 2Q14 increased 7.9% in North America, 2.1% in Europe, 5.1% in Asia Pacific, 7.8% in Latin America, and 2% in Africa and the Middle East. Management said the company saw organic revenue growth of 8.8% in the U.S. The growth was driven by its media operations. It was also driven by robust results in search, social, and programmatic trading.
Growth driven by acquisitions and ad deals
The company also expanded through acquisitions. Acquisitions included the Germany-based independent advertising agency Heimat. It also included the United Kingdom-based brand and retail agency Haygarth. In July, Omnicom's DAS Group of Companies acquired a minority interest in In Press—a leading public relations agency in Brazil. The company said that Brazil is a key market for its clients and businesses.
On the earnings call, Omnicom's management added that the ad agency won ~$2 billion worth of new business since the beginning of the year. This includes well-known brands like Johnson & Johnson, CVS, Sony, Heinz, Dixon, and several new assignments in the pharmaceutical sector. It also struck an ad deal worth $230 million with Twitter during 2Q14.
In the next part of this series, we'll discuss Davidson Kempner's exit from its position in JPMorgan Chase & Co. (JPM).