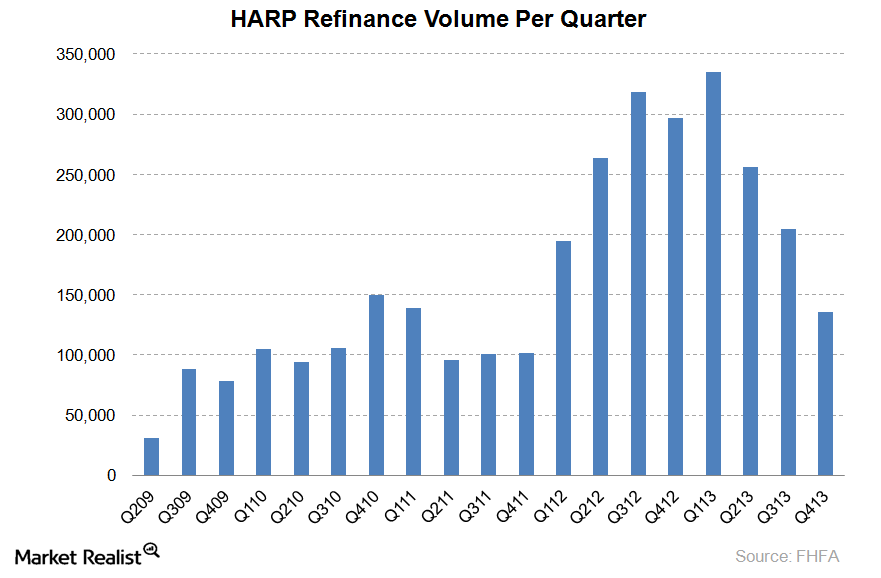 HARP refinances drop off as interest rates for mortgages increase
By Brent Nyitray, CFA, MBA

Nov. 20 2020, Updated 3:04 p.m. ET
The Home Affordable Refinance Program permits homeowners with negative equity to refinance at today's lower rates
The Home Affordable Refinance Program (or HARP) was instituted in 2009 to allow homeowners with negative equity to take advantage of today's low interest rate environment. Before HARP, banks wouldn't lend more than the home's value. In real estate jargon, they won't underwrite loans with a loan-to-value ratio (or LTV) greater than 1.0. So if a homeowner bought their home in 2006 with a 6.5% mortgage rate, they'd be unable to refinance if they owed more than the home was worth. The government created HARP with these people in mind. Since its inception, the HARP program has refinanced 2.5 million mortgages.
Article continues below advertisement
To be eligible for HARP, the borrower must have a loan guaranteed by Fannie Mae or Freddie Mac, have an LTV ratio above 80%, and be current on their mortgage. The program was designed primarily to help people who wanted to stay in their home and who had adjustable-rate mortgages where they could afford the initial "teaser" rate but wouldn't be able to afford the payment once the mortgage adjusted upward. The program gave them a new 30-year fixed-rate mortgage at the initial teaser rate. Homeowners can check if they have a Fannie Mae or Freddie Mac loan by checking the respective company websites or by checking with their servicer.
HARP refinances decrease as rates climb
HARP refinances fell to 30,000 in December from 38,700 in November. Refinance activity has dropped across the board, so this result isn't a surprise. Overall, HARP activity started falling off a cliff early last year as rates began to rise.
The HARP program was set to expire December 31, 2013, but FHFA extended the program until December 31, 2015. "More than two million homeowners have refinanced through HARP, proving it a useful tool for reducing risk," said Acting FHFA Chairman Ed Demarco. Chairman DeMarco had been under pressure to allow principal modifications for Fannie Mae and Freddie Mac loans, but resisted. His responsibility is to look out for the taxpayer—not necessarily borrowers.  Mel Watt, who is a politician, not a technocrat, was nominated to replace DeMarco and was confirmed on a strict party-line vote.
Article continues below advertisement
In 2012, HARP refinances accounted for 18% of all refinance activity in conforming (Fannie Mae or Freddie Mac) loans. In the hardest-hit states (Florida and Nevada), these refinances accounted for over half the refinance activity. The Administration is considering extending HARP to borrowers with non-government mortgages.
Implications for mortgage REITs
Refinancing activity affects prepayment speeds, which is a critical driver of mortgage REIT returns. Prepayments are due to the fact that homeowners are allowed to pay off their mortgage early without penalty. When interest rates fall, those who can refinance at a lower rate will. This is good for homeowners, but it isn't necessarily good for mortgage lenders—especially REITs. When homeowners prepay, the investor loses a high-yielding asset and is forced to re-invest the proceeds in a lower-rate investment; this means lower returns going forward. A rise in prepayment speeds could be negative for REITs, like American Agency Capital Corp. (AGNC), Annaly Capital Management, Inc. (NLY), Hatteras Financial Corp. (HTS), CYS Investments, Inc. (CYS), and Capstead Mortgage Corporation (CMO).
The other implication is that REITs may take capital losses on some of these mortgages. Ordinarily, a government-guaranteed mortgage with a coupon rate well above market rates will trade above par, as long as the loan-to-value ratio was over 1, because it couldn't be prepaid. (Think about our example above with a person who took out a mortgage at 6.5% in 2006—that mortgage would be worth close to 110. If a REIT has that mortgage marked at 110 and the loan refinances, they will take a capital loss of ten points.)