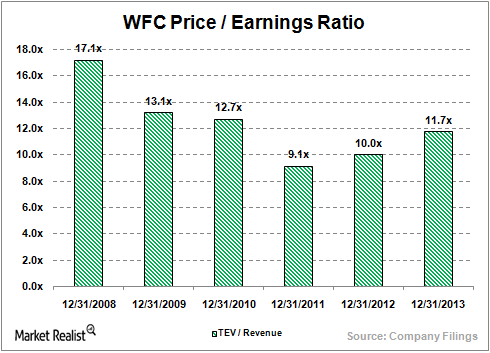 Must-know: Why did Omega Advisors exit its Wells Fargo position?
By Samantha Nielson

Dec. 4 2020, Updated 10:52 a.m. ET
Omega Advisors Inc. is a New York–based investment advisory firm founded in 1991 by Leon G. Cooperman. Omega has approximately $10 billion under management (as of November 30, 2013).
Abbreviated financial summaries and metrics for these securities are included below. Detailed analysis and recommendations require a subscription (more information at the bottom of the article).
Omega Advisors started new positions in Sprint Corp (S), Freeport-McMoRan Copper (FCX),  HCA Holdings Inc. (HCA), and Realogy Holdings Corp. (RLGY) and it sold Occidental Petroleum (OXY), Wells Fargo & Company (WFC), and Crocs Inc. (CROX).
Why sell Wells Fargo & Co. (WFC)?

Omega sold a 1.05% position in Wells Fargo.
Article continues below advertisement
Wells Fargo & Company reported net income up 13%, to $5.6 billion, and $0.99 EPS in 3Q 2013. Revenue was down 4%, to $20.5 billion, compared to $21.4 billion in the second quarter of 2013. With net interest income stable, revenue declined primarily from lower mortgage banking revenue and trust and investment fees, partially offset by higher market sensitive revenue and other income.
The company said as the economy continues to transition to higher interest rates, its diversified business model and strong risk discipline contributed to record EPS along with continued strength in return on assets, return on equity, and capital. It also saw growth in loans and deposits. The improvement in the housing market has been beneficial to its customers and significantly contributed to its broad-based credit improvement in the quarter. Loss levels improved from the second quarter and were at historically low levels.
It said on its earnings call that it saw some new economic challenges with the U.S. government shutdown and a possibility of the government defaulting on its debt, but prior to that, the economy had continued its pace of moderate growth with gains in consumer spending, business investment, and employment. While the recovery remains uneven, there are many positive signs, including increased small business optimism and a dramatic improvement in household net worth, with household leverage lower than any time since 2002, which provides capacity for consumer spending and borrowing going forward. The company said it benefited from a continued improvement in credit quality with losses down significantly, reflecting its conservative underwriting and an improvement in the economy—especially the rebound in housing.
The company beat analyst estimates on earnings, but revenue was below estimates. Despite weak revenue, analysts are currently bullish about the stock due to robust stock price performance, growth in EPS, and increasing profit margins.
Article continues below advertisement
According to hedgefundletters.com, Omega Advisors primarily invests in domestic public equity and dabbles in markets such as bonds and commodities. When the fund focuses on investing in value equities, it uses a combination of a top-down approach, to carefully choose the sector, and a long-short fundamental analysis. To create his portfolios, Leon G. Cooperman takes a bottom-up approach to form his portfolios with the S&P 500 index as the benchmark.
Cooperman was born in New York and as an undergraduate at Hunter College, he joined and was an active member of Alpha Epsilon Pi. After graduating, he became a Xerox quality control engineer in 1965. He later received his M.B.A. from Columbia Business School, graduating in 1967. After 25 years of service, Leon Cooperman retired in 1991 from his positions as general partner of Goldman, Sachs & Co. and as chairman and chief executive officer of Goldman Sachs Asset Management in order to set up Omega.