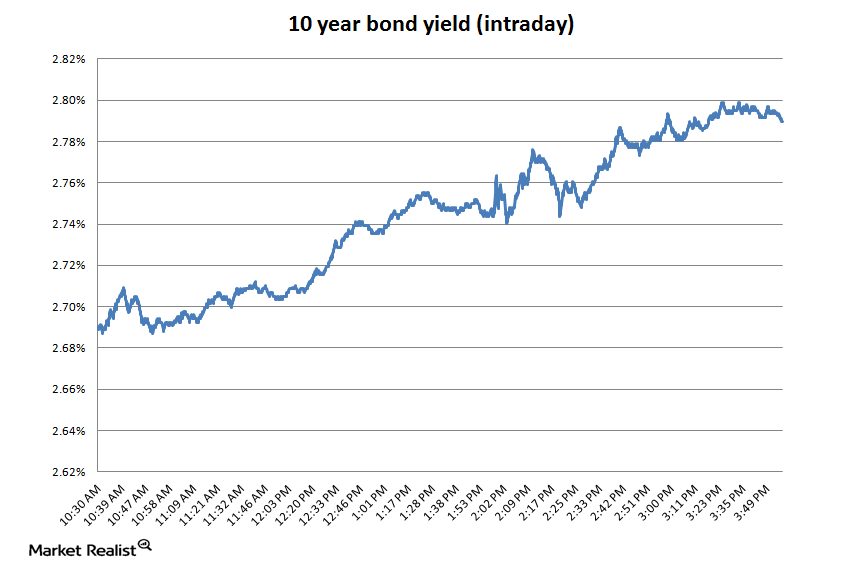 Must-know: Bonds sell off on the October FOMC minutes
The Federal Reserve usually releases a more detailed account of its Federal Open Market Committee (FOMC) meetings a month or two after the initial meeting
When the Fed meets for its FOMC meeting, it usually puts out a press release that hits the highlights of the decision and gives a brief economic synopsis. Sometimes the release accompanies a press conference. Analysts will usually compare the current statement with the previous one and try to divine the Fed's thinking by noting any changes in language. The FOMC minutes of the meeting are much more in-depth and are usually ten to twenty pages long, with graphs and a discussion of both sides of the argument. Instead of simply giving the argument for dissenters, it gives the analyst a feeling for the current discussions.
Bonds sell off on the comments
Article continues below advertisement
Bonds were already heavy from the stronger-than-expected retail sales numbers, and the FOMC minutes pushed them over the edge. Market participants who were expecting caution due to the government shutdown were disappointed. The minutes showed that the Fed expects the economy to improve in the coming months and if it plays out as expected, they should begin to reduce asset purchases.
Review of the economic situation
Lately, there are two adjectives the Fed uses to characterize economic data points—"moderate" and "modest." The Fed chose to characterize the economic growth as "moderate." On the other hand, it referred to inflation as "modest." While it's probably a fool's errand to read too much into the word choice, it does seem to indicate that growth is outpacing inflation.
The Fed referred to the September jobs report and noted that other economic data was delayed by the government shutdown. The review of the labor situation was tilted more towards expectations than actual hiring. The Fed attributed the increase in initial jobless claims to the government shutdown.
Article continues below advertisement
Consumption rose moderately and the Fed noted that retail sales increased significantly. As an aside, I wonder what the heck it was looking at since retail sales for September were down, and August was up only 0.2%. Back-to-school comps at the retailers were generally poor as well, especially for apparel. Best Buy today announced a miss. October retail sales rebounded, but the Fed wouldn't have had that data at the FOMC meeting. Strange.
The Fed noted that government spending increased in September, but that may have been seasonal. The government operates on a September 30 fiscal year and there's a distinct "use-it-or-lose-it" mentality with government agencies and their budgets. This often causes government spending to increase in September and then fall in October.
Capital expenditures were characterized as "tepid," although the Fed did note that orders were exceeding shipments, which points to higher spending down the road.