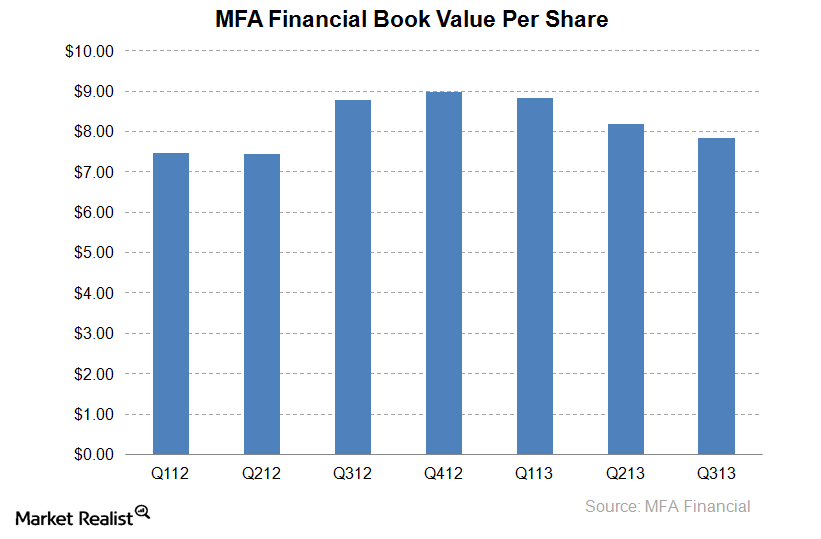 Why MFA Financial benefits from increasing real estate prices
By Brent Nyitray, CFA, MBA

Nov. 20 2020, Updated 12:53 p.m. ET
MFA Financial is a REIT that invests in both agency and non-agency mortgage-backed securities
MFA Financial (MFA) is a mortgage real estate investment trust (REIT) that invests in both agency (government-guaranteed) and non-agency (non-guaranteed) mortgage-backed securities (MBS). Its portfolio is primarily invested in hybrids, adjustable-rate mortgages (ARM), and 15-year fixed-rate mortgages. It chooses to invest in these types of assets in order to minimize interest rate risk. As a REIT, it must distribute 90% of its income to its shareholders and isn't subject to income tax at the corporate level. This means it has outsized dividend yields, which can be volatile. Over the past 12 months, MFA has paid a dividend yield of over 20% when you take into account two special dividends.
Article continues below advertisement
As is typical for a mortgage REIT, MFA uses leverage (borrowed money) to increase returns. It's currently levered 3:1. This amount of leverage is lower than the typical agency REIT that invests in primarily lower-yielding paper. They use repurchase agreements and bond issues to lever their portfolio.
Highlights of the quarter
MFA Financial reported earnings of 19 cents per share, a touch lower than analyst estimates. Revenues came in at $118 million, down about 2% from last quarter. It recently paid a 28 cent special dividend. Book value per share dropped from $8.19 to $8.14, a similar drop to what we've seen from the other REITs like American Capital Agency (AGNC) or Annaly (NLY).
As a REIT that trades in non-agency paper, the improving housing market definitely helps MFA Financial. The average loan-to-value ratio on its non-agency mortgages is about 85%, quite the drop from the 105% average LTV it had in January 2012. About 45% of those loans are in the red-hot California real estate market. If the borrower defaults, it will bear the risk that the liquidation value of the collateral doesn't cover the outstanding amount of the loan. The loss is referred to as "severity."
Given that the company bears credit risk, MFA is careful to minimize its interest rate risk on the agency side. It concentrates on 15-year fixed-rate mortgages because its has less prepayment risk than a typical 30-year mortgage. We've seen a lot of people refinance from a 30-year fixed-rate mortgage to a 15-year mortgage and keep the same payment. The rest of the agency portfolio is adjustable-rate mortgages, which have less interest rate risk than fixed-rate mortgages.
Read-across to other mortgage REITs
The lower drop in book value per share shows the benefit of the non-agency model in an environment of growing economic strength and rising interest rates. While they're suffering from their interest rate exposure (as is every REIT), they're benefiting from home price appreciation, which increases the value of their non-agency MBS.
The quick read-across is that non-agency REITs like PennyMac (PMT) and Redwood Trust (RWT) may be in a better position, as their portfolio yields may not have dropped as much as the agency REITs. Obviously, that depends on how the other non-agency REITs have managed their portfolios, and their results may differ from MFAs. The non-agency REITs also benefit from increasing home prices in that they lessen the severity of their portfolio when borrowers default. For agency REITs like American Capital (AGNC) or Annaly (NLY), increasing home prices aren't much of a benefit because firstly, they don't take credit risk to begin with, and secondly, increasing home values allow more and more underwater homeowners with high mortgage rates to refinance, which will push up their prepayments. Prepayment risk means that the investor's highest-yielding mortgages are paid off early, and they must re-invest the proceeds in lower yielding mortgages.