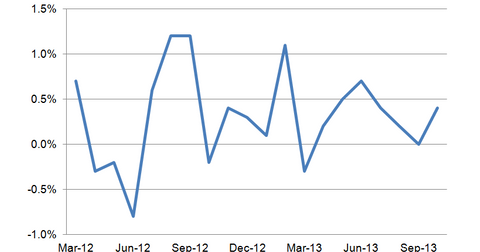 Why bonds sold off on stronger economic data and a hawkish Fed
By Brent Nyitray, CFA, MBA

Nov. 26 2013, Published 4:00 p.m. ET
The ten-year bond is the basic driver of REITs and homebuilders
Long-term interest rates are priced off the benchmark long-term bond, which is the ten-year Treasury. These days, the ten-year bond reacts to economic data through the Federal Reserve's asset purchase program, also known as quantitative easing (or QE). As a general rule, economic data that shows weakness is bond bullish (positive). However, data that shows strength isn't necessarily bond bearish (negative).
Bonds sell off on strong retail sales and FOMC minutes
Article continues below advertisement
Last week was relatively data-light, so the FOMC minutes took center stage. The Fed's economic outlook remained relatively constructive and it set the stage for a December taper. Separately, retail sales came in much stronger than expected. Two important data points—the October jobs report and the October retail sales report—confirmed the government shutdown had little effect on the economy.
REIT earnings
REIT earnings are largely over. The REITs de-leveraged their balance sheets pretty aggressively over the past five months and are now in a much better position to weather an increasing interest rate environment.
Homebuilder earnings and M&A
We're starting to see mergers and acquisition (M&A) activity in the homebuilding space, with two deals. First, Tri Pointe Homes (TPH) is buying Weyerhaeuser's homebuilding unit, and second, Toll Brothers is buying Shapell. We can attribute much of this to the two-tiered financing market in general. Large companies are able to borrow at exceptionally low interest rates and almost have money thrown at them by the Street. Smaller builders, however, are stuck dealing with the banks, and credit is much tighter for them.
Implications for mortgage REITs
Article continues below advertisement
Mortgage REITs, like Annaly (NLY) and American Capital (AGNC), are driven by interest rates. The mortgage REITs have been crushed as the ten-year bond has sold off, but they've been trying to form a bottom here. For REITs, it's all about the Fed's exit of QE (quantitative easing). The jobs report and retail sales reports were probably strong enough to bring a December taper back into the picture, but it's a long shot.
Implications for homebuilders
Homebuilders, like Lennar (LEN), KB Home (KBH), and Standard Pacific (SPF), are more sensitive to general economic strength. The retail sales report certainly was a positive for them. Earnings season for the builders is winding up and we're heading into a seasonally slow time for the builders. It's too early to tell if the recent decline in rates (notwithstanding Friday's report) has had any effect on traffic.