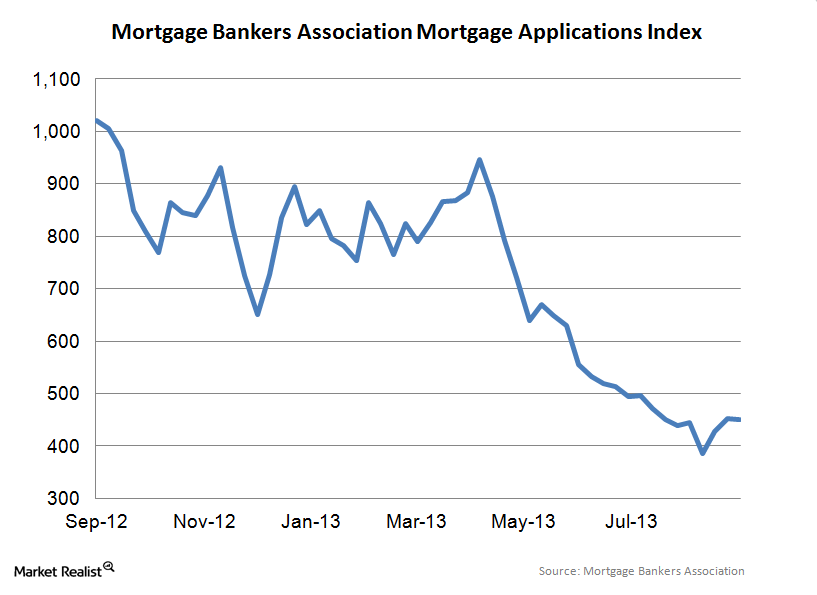 Recommendation: What the shutdown means for mortgage originators
Mortgage originators are in a tough environment
After feasting on the refinance boom of 2012, mortgage originators are finding 2013 to be a much more inhospitable environment. Many banks had added little capacity and were able to make a fine living doing refinance activity, which is a technologically driven business led by price discovery. It's well-suited to Internet and radio marketing and is pretty much price-driven. This was a highly profitable business while it lasted, and many mortgage bankers were able to concentrate on the most profitable businesses and ignore the other more labor-intensive businesses.
Article continues below advertisement
Now that the refinance boom is over, it's all about the purchase business. This business requires infrastructure and relationships. Many mortgage bankers that concentrated on the refinance businesses are merging or failing. Every week, people in the industry hear about another originator folding. Banks with excess capacity are cutting price to maintain market share.
Finally, the regulatory environment is downright hostile, and the unintended consequence of the CFPB's regulations will restrict lending even further.
The government shutdown is affecting the origination business
So in an environment with both declining volume and declining margins, the government shutdown was the last thing many originators wanted to see. While most functions will remain open, there are a few critical functions that have stopped.
The biggest halted function is done by the IRS. Originators verify income data from the IRS and also ensure that the borrower has been paying taxes. IRS liens are senior to all other debts, so an originator wants to make sure the borrower is current. During the shutdown, the IRS isn't verifying income and taxes paid. This verification isn't a formal regulatory requirement, but all lenders use it. It seems many originators are deciding it's worth the risk to waive this requirement during the shutdown and make the loans anyway—at least for W-2 borrowers, who have jobs that can be verified by the employer and who have taxes withheld.
One last headache is mortgage insurance. The FHA isn't insuring loans while the government's shut down. Originators usually have two months after a loan is made to get it insured, but if the government is building a backlog of cases, many originators might find themselves in hot water.
Watch the originators
Garden-variety mortgage REITs like Annaly (NLY), American Capital (AGNC), and MFA Financial (MFA) aren't going to worry about the shutdown. For them, it's even a modest positive, as it keeps the Fed on their side for just a little while longer. This shutdown's effect on mortgage banking most directly affects PennyMac (PMT) and Redwood Trust (RWT). PennyMac does business all over the spectrum, from FHA to VA to jumbos. Redwood Trust concentrates on jumbo mortgages. Incidentally, it's the borrowers purchasing high-priced properties that are most likely to have non-wage income and need IRS verification. So a shutdown of any length is likely to affect Redwood Trust a lot. But PennyMac also has exposure. Theoretically, if PennyMac securitizes a lot of FHA loans and doesn't get them insured within two months, they could be forced to buy the loans out of the pool, which would be a huge cash drain. They won't end up taking losses, but it will be a big use of cash and it won't positively affect the bottom line.