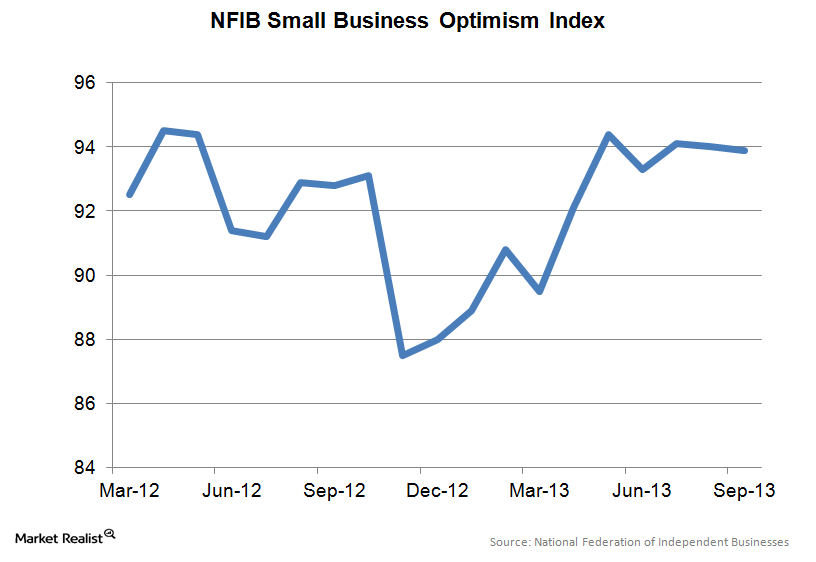 Must-know: NFIB Small Business Optimism Survey slips in October
By Brent Nyitray, CFA, MBA

Nov. 20 2020, Updated 3:07 p.m. ET
The National Federation of Independent Business Optimism Survey is a finger on the pulse of small business
The National Federation of Independent Business is a monthly report that contains a wealth of information regarding trends for small businesses. It examines labor markets, plans for capital expenditures, credit availability, inventory and sales data, inflation, earnings, and economic outlook. The survey goes back to 1986, so it's useful to compare current conditions versus prior peaks and valleys.
Article continues below advertisement
Small business accounts for roughly half of US GDP and jobs. While the financial press tends to focus on the large-cap stock market indices as a barometer of the economy, small business tends to not get as much focus. Large capitalization stocks generally have a large international focus, which means their earnings and sentiment don't necessarily represent the economy as a whole. When forecasting the Fed's next move, it pays to focus on small business earnings as much as or more than the earnings of, say, Apple.
The Optimism Index dips slightly from its 12-month high, but internals are worrisome
The Optimism Index ticked down to 93.9 from 94 the previous month. "Normalcy" is an index reading of around 100, so we're well below the trend. The employment index slipped 1 point in October, while the expectations of earnings trends ticked down 2 points. Expectations about the economy slipped 8 points.
More firms are reporting sales declines rather than sales increases. Of all small business owners, 17% cited poor sales as their greatest problem. Regulation and red tape came in first, with 24% of all respondents citing them as their biggest concern. Second place went to taxes, which were cited by 18% of the surveyed firms as their biggest concern. The lowest concern? Credit availability, although half the respondents said they weren't interested in borrowing. This dovetails with the low capital expenditures level, where only 25% of all respondents intend to make capital outlays in the next three to six months. This is a recessionary reading, but it has been par for the course since the recession began.
While optimism is holding in there, the drop in sales is particularly worrisome and signals a potential slowdown.
Implications for mortgage REITs
Article continues below advertisement
The biggest driver for mortgage REITs, like Annaly (NLY), American Capital (AGNC), Hatteras (HTS), Capstead (CMO), or MFA Financial (MFA), is the level of interest rates. Reports like this tell the Fed that it should continue holding interest rates at close to zero and continue purchasing long-term Treasuries and mortgage-backed securities. That said, the Fed intends to exit quantitative easing (or QE). Ben Bernanke has said that even if QE ends, interest rates will remain at extremely low levels for the foreseeable future.
The financial press will continue to focus on asset prices, record levels in the Dow Jones Industrial Average, and increasing house prices in places like Phoenix. While those are important data points, the economy doesn't feel as if the stock market were at record levels. As long as there's a disconnect between large caps and small business, the Fed should take its cues from small business—in other words, Main Street, not Wall Street. Regardless, the bond market is forecasting the end of QE and REITs must adjust their portfolios accordingly.
This means that mortgage REITs will have reduced leverage in order to take risk off the table. As long as there's stability in the financial markets, their borrowing rates will remain low. Pre-payments become a non-issue, while delinquencies can become a problem if rising rates trigger an economic slowdown.