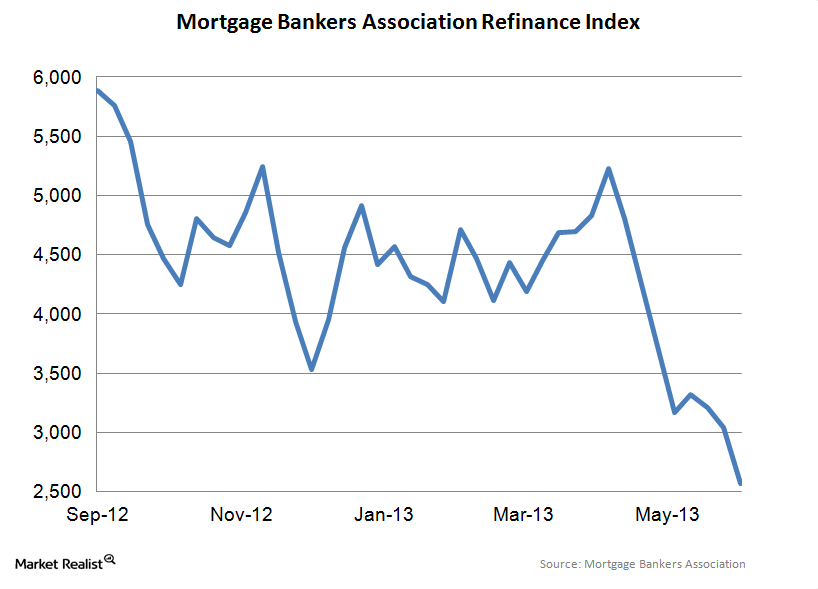 MBA Refinance index falls; prepayment worries fade into the background
By Brent Nyitray, CFA, MBA

Nov. 20 2020, Updated 3:18 p.m. ET
The MBA Refinance Index is an important index that forecasts mortgage activity and prepayments
The Mortgage Bankers Association (MBA) Index of Refinance Activity measures application activity, not loans made. The Mortgage Bankers Association samples roughly 75% of all mortgage activity in the U.S., and its indices are key indicators for the real estate finance market and for homebuilders. The MBA releases its refinance index weekly, along with its mortgage applications composite index.
Article continues below advertisement
Housing economists use the MBA applications data to forecast many economic variables, like existing home sales and new home sales. Originators use the data to benchmark their own activities. Mortgage REITs use the data to forecast prepayment activity, which is a critical factor in mortgage-backed security returns.
The MBA Refinance Index fell 12.3% for the week ending June 21
The Refinance Index fell to 15.5% to 2568 from 3041, even as the average rate on a 30-year fixed-rate mortgage dropped to 4.39%. The ten-year bond yield rose five basis points to 2.53% on the FOMC meeting. The reaction from the April Jobs Report, which seems to have been at least the initial catalyst for this sell-off, continued through last week. In fact, the average 30-year fixed-rate mortgage bottomed at 3.4% for the week of May 1 and has steadily increased since. Ben Bernanke's testimony in front of Congress last week raised the possibility of tapering quantitative easing in Fall.
MBA reported that the share of refinance applications dropped to 64%. Most originators are anticipating a more purchase-driven market going forward and believe we've seen the lows in interest rates. If we have in fact seen the lows in interest rates, home price appreciation will drive refinance activity more as previously underwater homeowners eventually get back to positive equity and take advantage of lower rates. Slowing refinance activity could be a negative for originators like PennyMac (PMT) and Redwood Trust (RWT).
Implications for mortgage REITs
Article continues below advertisement
Refinancing activity affects prepayment speeds, which is a critical driver of mortgage REIT returns. Prepayment speeds occur because homeowners are allowed to pay off their mortgage early, without penalty, and when interest rates fall, those who can refinance at a lower rate do. This is good for homeowners. However, it isn't necessarily good for mortgage lenders, especially REITs. When homeowners prepay, the investor loses a high-yielding asset and is forced to re-invest the proceeds in a lower-rate investment. This means lower returns going forward. A rise in prepayment speeds could negatively affect REITs, like American Agency Capital Corp. (AGNC), Annaly Capital Management, Inc. (NLY), Hatteras Financial Corp. (HTS), CYS Investments, Inc. (CYS), and Capstead Mortage Corporation (CMO). That said, the increase in rates has basically put prepayment worries on the back burner for the REITs.
However, as rates increase, prepayments become less of a problem for REITs, but increasing rates bring their own set of problems, and REITs face mark-to-market hits on their portfolio and must adjust their hedges to a more volatile interest rate environment. Mortgage-backed securities outperform in stable interest rate environments, but they're highly vulnerable to interest rate shocks.