Kamala Harris is poised to become the nation's new Vice President in January alongside President-elect Joe Biden. Harris' husband, Doug Emhoff intends to leave his private law practice to focus his time and energy on supporting Harris in her new role.
Article continues below advertisement
Kamala Harris is breaking barriers. She's the first female, African-American, and Indian-American elected to the office of vice president in history. Emhoff, her husband since 2014, will also represent several firsts for the vice-presidential ticket. He will be the first "Second Gentleman" in the U.S. He will also challenge stereotypes by giving up his career for his wife.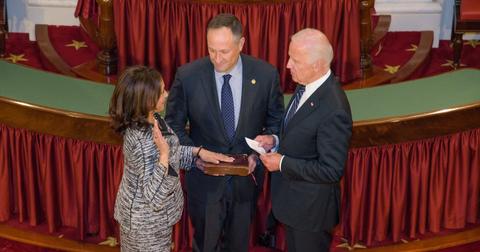 Article continues below advertisement
What does Doug Emhoff do?
Doug Emhoff has been a corporate lawyer at DLA Piper since 2017. He spent ten years at the law firm Venable, where he represented high-profile clients like Merck. Merck faced lawsuits tied to its drug Fosamax, according to The New York Times.
Emhoff focused on disputes about trademarks and intellectual property in his legal practice. The New York Times also reported that he represented an arms-dealer, Dolarian Capital, in a case regarding the sale of AK-47s in Afghanistan. Other notable past clients include Olympic sprinter and NFL player Willie Gault and the husband of one of the Real Housewives of Beverly Hills.
Article continues below advertisement
Emhoff took a leave of absence from DLA Piper starting in August when Joe Biden named Harris as his running mate for the presidency. Since the election in early November, Emhoff announced his intention to break ties with his law firm by Inauguration Day.
Besides the high expectations and demands of presidential and vice-presidential spouses, Emhoff's departure from his law career is largely prompted by concerns about a conflict of interest. DLA Piper has lobbied on behalf of clients including Comcast, Raytheon, and the government of Puerto Rico, according to AP News.
Article continues below advertisement
Theoretically, Emhoff could continue to practice law with a different firm that doesn't have DLA Piper's lobbying presence. Emhoff hasn't specified what role he intends to pursue as the vice president's spouse. Traditionally, "spouses often build public awareness or advocacy campaigns around key issues," AP News reported.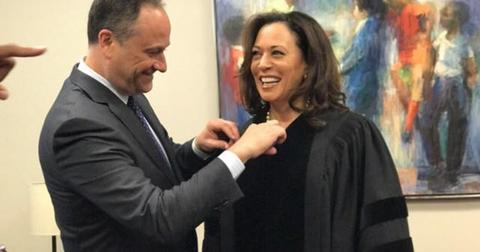 Article continues below advertisement
Doug Emhoff net worth
Kamala Harris released 15 years' worth of tax records to the public during the Democratic primary election process. From 2014 to 2019, her tax records included her combined income with Emhoff. His income accounted for most of the couple's earnings over those years.
According to Forbes, Harris and Emhoff earned a combined $7 million since she joined the Senate. In 2018, Emhoff earned an estimated $1.5 million from Venable and DLA Piper. In 2019, he earned an estimated $2.8 million through his work at DLA Piper, Venable, and a hotel group LLC.
Article continues below advertisement
Even though Emhoff left Venable, he continues to earn income from the company due to his retention of a sizable partnership stake.
A portion of Emhoff's combined net worth with Harris consists of real estate. They have homes in Los Angeles, San Francisco, and Washington, D.C. The three properties make up a large percentage of the couple's net worth, according to Forbes.