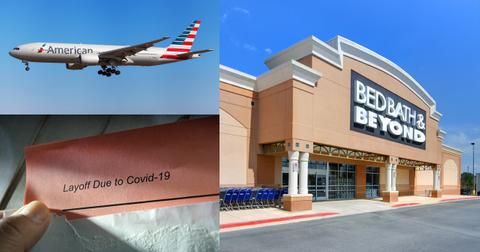 American Airlines and Bed Bath & Beyond Announce Layoffs
By Mohit Oberoi, CFA

Updated
The coronavirus pandemic has taken a toll on the U.S. economy. In July, the unemployment rate was 10.2 percent. Since the economy has mostly reopened, companies are rethinking their business plans and assessing the underlying demand. On Aug. 25, there was news of layoffs at American Airlines and Bed Bath & Beyond.
Article continues below advertisement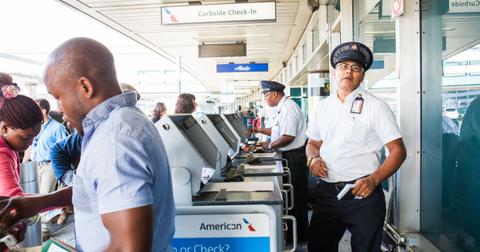 American Airlines announced layoffs
American Airlines said in a memo to employees that it would furlough or layoff 19,000 employees by Oct. 1 unless the battered airline industry gets more federal help. "It was assumed that by Sept. 30, the virus would be under control and demand for air travel would have returned. That is obviously not the case," said CEO Doug Parker and President Robert Isom in the memo.
Article continues below advertisement
The COVID-19 pandemic is turning out to be the death knell for the airline sector. In April, Berkshire Hathaway chairman Warren Buffett exited his stake in all four airline companies including American Airlines. "We like those airlines but the world has changed…and I don't know how it's changed," Buffett said in May while disclosing the stake sale.
American Airlines plans to furlough thousands of employees this fall – unless airlines get another round of government financial aid.​ https://t.co/udiBaujFcM

— Columbus Biz First (@columbusbiz1st) August 26, 2020
Article continues below advertisement
What airlines have laid off workers this year?
Since the coronavirus pandemic has taken a toll on air travel, many airlines plan to lay off workers. Under the CARES Act, U.S. airline companies that have used the benefits can't lay off workers until Oct. 1. However, as the deadline approaches, airlines are rethinking their plans. Delta Air Lines also plans to furlough 2,000 employees. Southwest Airlines ruled out layoffs at least until the end of the year.
What is American Airlines' stock price now?
American Airlines stock fell 2.2 percent on Tuesday and closed at $13.14. The stock was trading 1.7 percent down in pre-market trading on Aug. 26. With a YTD loss of 53 percent, American Airlines stock is among the top 10 losses in the S&P 500 this year. However, the shares have bounced back sharply from their March lows. American Airlines stock is up almost 60 percent from its 52-week low of $8.25.
Article continues below advertisement
For everyone's health and safety, we will require masks or other face coverings in our stores beginning July 24. See our update here: https://t.co/hODhikJmX2

— Bed Bath & Beyond (@BedBathBeyond) July 17, 2020
What is Bed Bath & Beyond's stock price today?
Along with American Airlines, Bed Bath & Beyond also announced layoffs on Aug. 25. The company plans to lower its headcount by 2,800 workers under the "accelerated restructuring plan." However, unlike American Express, Bed Bath & Beyond's layoffs are immediate.
Article continues below advertisement
"This action is designed to further reduce layers at the corporate level, significantly reposition field operations to better serve customers in a digital-first shopping environment, as well as realign technology, supply chain and merchandising teams to support strategic growth initiatives," said the company in its release.
Bed Bath & Beyond stock closed at $12.32 on Tuesday and gained 0.45 percent from its previous closing. However, the stock is down 27 percent for the year. Bed Bath & Beyond has been underperforming the S&P 500, which hit a new record high on Tuesday.