Miniso, which is backed by Tencent Holdings, raised about $608 million in a U.S. IPO priced above the marketed range, according to a Bloomberg report. On Oct. 14, the company sold about 30.4 million ADS (American depositary shares) for $20 each. How can investors buy into the Miniso stock IPO?
Article continues below advertisement
When is the Miniso IPO date?
On Oct. 15, Miniso stock is likely to begin trading. The stock will be traded on the NYSE under the ticker symbol "MNSO." Miniso sold about 30.4 million ADSs for $20 apiece. The company had earlier priced the U.S. IPO at $16.50–$18.50 each. Each ADS represents four of the company's ordinary shares. The listed underwriters for the IPO are Goldman Sachs and Bank of America Securities. Miniso has granted underwriters a 30-day option to buy an additional 4.56 million ADS.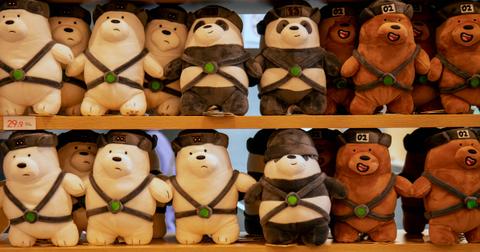 Article continues below advertisement
The Miniso listing follows 33 others on U.S. stock exchanges this year by firms based in Hong Kong and China that raised a total of $9.74 billion according to Bloomberg's calculations. Despite the COVID-19 pandemic, that's significantly higher than last year's total of $4 billion raised in about 35 listings.
Where to buy Miniso stock IPO?
To buy Miniso stock when it lands on the NYSE, investors can open a brokerage account with online brokers like Charles Schwab, TD Ameritrade, E*Trade, Robinhood, SoFi Invest, and Vanguard.
Article continues below advertisement
We didn't expect that a retailer like MINISO $MNSO would get so much investor demand. But they have learned to appreciate this type of retail concept given how well $FIVE and $GO have done. #invstement #business

— Candy Man (@ipo_candy) October 14, 2020
How to buy Miniso stock IPO on Robinhood?
To buy Miniso stock on Robinhood, investors will need to have an active Robinhood stock trading account. After you've transferred funds to your Robinhood stock trading account, you can place a "buy" order.
Article continues below advertisement
Should I buy Miniso stock IPO?
Miniso was founded in 2009 by Ye Guo Fu. Miniso is a China-based low-cost retailer and variety store chain. The company specializes in consumer goods and households, including stationery, toys, cosmetics, and kitchenware. Miniso has more than 2,500 stores in China and 1,680 stores across about 80 countries.
According to Seeking Alpha, investors can avoid Miniso stock U.S. IPO as it is overpriced. The company has suffered from the effects of the coronavirus pandemic. In fiscal 2020 (ended June 30), Miniso's sales fell by 4.4 percent year-over-year to 9.0 billion renminbi ($1.27 billion). It posted a net loss of 260.2 million renminbi ($36.8 million) in fiscal 2020 compared to a net loss of 294.4 million renminbi in fiscal 2019. As of June 30, Miniso had $905.8 million in total liabilities and $419.7 million in cash.