CBL Properties and Pennsylvania REIT, two of the leading mall operators in the U.S., filed for bankruptcy on Nov. 1. What are the key takeaways from CBL Properties' bankruptcy filing? What are the potential implications for CBL Properties' malls as well as investors?
Article continues below advertisement
Why CBL Properties filed for bankruptcy
The COVID-19 pandemic has taken a toll on mall operators. Since more people are shopping online instead of visiting malls, traffic in the malls has been declining. Lower traffic leads to lower revenues for mall operators and many stores are shutting down. The situation is especially problematic for operators with high debt levels.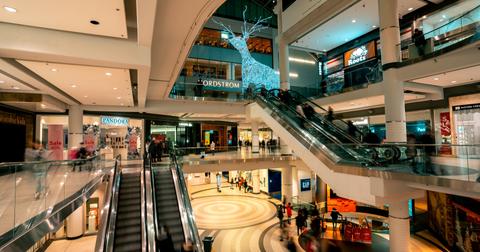 Article continues below advertisement
CBL Properties is one of the mall operators that has a high debt burden. The company has filed for a Chapter 11 bankruptcy and intends to restructure its debt as part of the deal. According to CBL Properties, its debt and preferred liabilities would reduce by around $1.5 billion and it would be able to extend the debt maturities.
"After months of discussions and consideration of a number of alternatives, CBL's management and the Board of Directors firmly believe that implementing the comprehensive restructuring as outlined in the RSA through a Chapter 11 voluntary bankruptcy filing will provide CBL with the best plan to emerge as a stronger and more stable company," said CBL Properties CEO Stephen D. Lebovitz.
Article continues below advertisement
Corporate news this am is pretty onbrand for 2020

* Clorox tops estimates as household product sales jump 39%
* Mall owner CBL declares bankruptcy

— Steve Goldstein (@MKTWgoldstein) November 2, 2020
Is CBL selling its properties?
The bankruptcy release doesn't talk about any potential sale of properties that CBL might undertake. However, CBL Properties mentioned that it would be business as usual for its tenants and customers during the bankruptcy period. CBL shares tumbled in premarket, but trading has now been suspended in the stock.
Article continues below advertisement
Pennsylvania REIT also filed for bankruptcy
CBL isn't the only mall operator that has filed for bankruptcy. On Nov. 1, Pennsylvania REIT also filed for Chapter 11 bankruptcy. "We are pleased to be moving forward with strengthening the Company's balance sheet and positioning it for long-term success through our prepackaged plan. We are grateful for the significant support we have received from a substantial majority of our lenders, which we expect will enable us to complete our financial restructuring on an expedited basis," said Pennsylvania REIT CEO Joseph F. Coradino.
Sunday night mall gloom: Pennsylvania REIT $PEI files for bankruptcy, beating CBL to the punch 🛍

— Claire Boston (@claireeboston) November 2, 2020
Article continues below advertisement
Due to the COVID-19 pandemic, many mall tenants have either closed down, negotiated lower rents, or pushed back payments. Some mall operators like Simon Property Group, which is the largest mall operator in the U.S., has used the situation to its advantage.
Simon Properties has been buying out troubled tenants at its properties. In September, Simon Properties and Brookfield acquired JCPenney, which filed for bankruptcy. The deal helped Simon Properties keep one of its biggest tenants open. Also, the deal helped JCPenney survive.
Two mall operators filing for bankruptcy in a single day shows the state of the U.S. economy. While the so-called "stay at home" stocks like Amazon have surged to record highs this year, many brick and mortar companies that rely on physical dealing with customers are having a hard time.