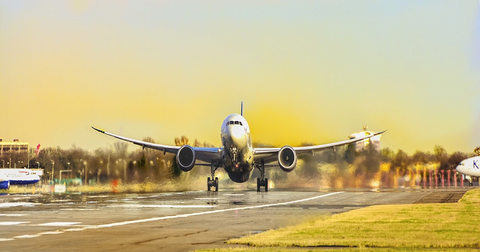 Boeing Stock: Dow Jones Finished Lower on June 27
By Anirudha Bhagat

Jun. 28 2019, Published 6:39 a.m. ET
Dow fell
On June 27, the Dow Jones finished trade on a lower note, while other US indexes moved up. The index fell by 10 points, while the NASDAQ Composite and the S&P 500 indexes gained 58 points and 11 points, respectively.
The Dow's underperformance was mainly due to a massive fall in Boeing (BA)—its highest-weighted stock. Boeing shares fell $10.92 or 2.9% during trade on June 27. At 9.5%, Boeing has the highest weight in the 30 stock index.
Article continues below advertisement
Why did Boeing stock fall?
Boeing stock fell on June 27 after the FAA (Federal Aviation Administration) revealed new safety issues with its troubled 737 MAX jets. The FAA announced that it discovered a data processing issue with the MAX jets while testing the aircraft's safety on a simulator. During the tests, pilots had a hard time recovering the aircraft in a scenario where the plane's nose was pitched down.
Boeing stock has fallen significantly since mid-March. A 737 MAX model plane operated by Ethiopian Airlines crashed on March 10 and killed all 157 people on board. A similar model aircraft operated by Lion Air crashed in the Java Sea on October 29, 2018, and killed 189 people.
Both of the planes crashed in a similar fashion. The initial investigation reports suggested a software glitch in the Maneuvering Characteristics Augmentation System or the flight control system.
Due to safety issues, regulators around the world have banned 737 MAX series jets from flying. Air carriers have denied taking deliveries of the planes until the safety concerns are cleared.
Delivery cancelations are hurting Boeing's commercial aircraft shipments. In May, the company's jet deliveries fell 56% YoY to 30 aircraft from 68 planes in May 2018. The company has also reduced its monthly production for MAX planes to 42 units from 52 units. The latest safety issue highlighted by the FAA could delay MAX planes' return to service.
The uncertainty about MAX planes poses risks to Boeing's part suppliers. Aircraft part and equipment suppliers shares fell after the FAA's revelation of new issues with 737 MAX planes. Spirit AeroSystems Holdings (SPR), L3 Technologies (LLL), and TransDigm Group (TDG) stocks fell 1.3%, 0.9%, and 0.5%, respectively, on June 27.
The iShares U.S. Aerospace & Defense ETF (ITA) fell 0.5% on June 27. ITA has holdings in companies that manufacture, assemble, and distribute aerospace and defense equipment.