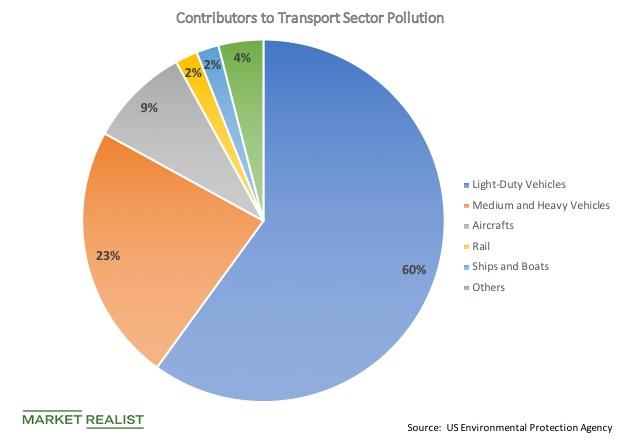 How the Trade War Will Affect Transportation Pollution
By Mike Sonnenberg

May. 17 2019, Published 3:34 p.m. ET
Pollution from the transportation sector
Pollution from the transportation sector (IYT) arises from cars and trucks, flights, sea trade, pipelines that transport oil and gas, and railways that carry passengers and freight.
In 2016, pollution from the transportation sector accounted for 29% of the total greenhouse gas emitted in the United States.
Light vehicles accounted for 60% of the transportation sector's emissions followed by commercial trucks, which accounted for 23%. Aircraft accounted for 9%, while the remaining 8% was divided among other sources.
Article continues below advertisement
Impact of the trade war
A prolonged trade war may affect pollution in the transportation sector in many ways, both positive and negative.
Firstly, a prolonged trade war would result in a global slowdown. As oil prices generally drop during a slowdown due to a lack of demand, fuel will be cheaper. Cheaper fuel may push people to drive more, leading to an increase in greenhouse gas emissions from vehicles.
Secondly, in the short term, the trade war may result in a stronger dollar. A stronger dollar will incentivize Americans to take vacations abroad. Coupled with cheaper fuel (and flights), this may result in higher pollution from the aviation sector if the trade war continues. In the medium term, a slowdown would result in people traveling less as priorities shift to basics and saving, which should result in a drop in pollution from the aviation sector.
Thirdly, China is leading the electric car revolution. With the trade war in place, America may not benefit from technology transfer or the import of these fuel-efficient cars. As imported steel and other components become more expensive, the prices of American electric cars (TSLA) will also go up, leading to a fall in demand. Thus, a prolonged trade war would be a negative development for pollution in the American transportation sector.